Domain Hosting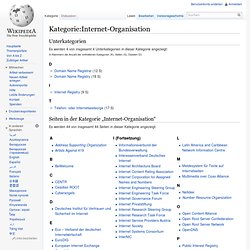 Kategorie: Internet-Organisation
Liebe Wikipedia-Leser: Unsere kleine Non-Profit-Organisation betreibt die fünftgrößte Website der Welt. Wir haben zwar nur 150 Mitarbeiter, aber 450 Millionen Nutzer – und Kosten wie jede andere große Website, für Server, Strom, Miete, Programme und Personal.
Kategorie: Domain-Name-Registrar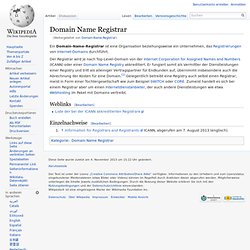 Ein Domain-Name-Registrar ist eine Organisation bzw. ein Unternehmen, das Registrierungen von Internet-Domains durchführt.
Domain-Name-Registrar
Verisign – Domainnamen-Registrierung, DDoS- und DNS-Management
Find a Registrar - Certified Domain Name Registrars - Verisign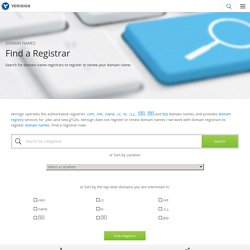 Verisign operates the authoritative registries for .com , .net , .name , .tv , .cc, and provides registry services for .jobs. Verisign does not register or renew domain names—we certify registrars who register domain names for people who need them. Registering a Domain Name The registrar assists consumers and business owners by verifying that a requested domain name is available, and then by registering it with Verisign or another registry company. The registry adds the domain name to its database and the registrant can begin using it for a web site, email, or other Internet services.
Kategorie: Internetstandard
Kategorie: URI
Uniform Resource Identifier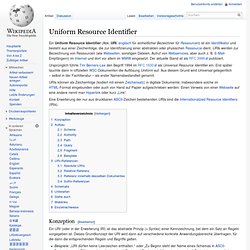 Ein Uniform Resource Identifier (Abk.
Kategorie: Domain Name System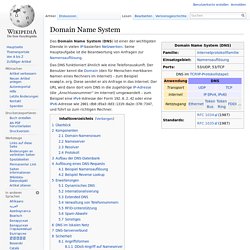 Das Domain Name System ( DNS ) ist einer der wichtigsten Dienste im IT-Netzwerk .
Domain Name System
Kategorie: Domain-Registrierung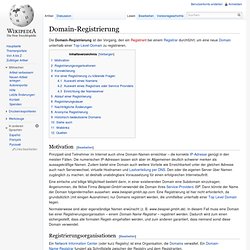 Domain-Registrierung
Eine Domain-Registrierung ist eine Datenbank aller Domains einer Top-Level-Domain .
aus Wikipedia, der freien Enzyklopädie Die Kategorie Regional Internet Registry existiert noch nicht. Bevor du eine Kategorie anlegst, beachte bitte folgende Hinweise: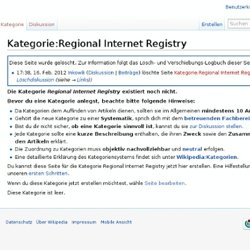 Kategorie: Regional Internet Registry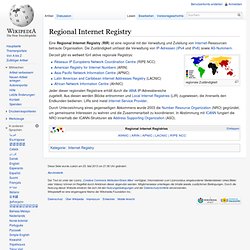 Eine Regional Internet Registry ( RIR ) ist eine regional mit der Verwaltung und Zuteilung von Internet -Ressourcen betraute Organisation.
Regional Internet Registry
Regional Internet Registry
Kategorie: Top-Level-Domain
Top-Level-Domain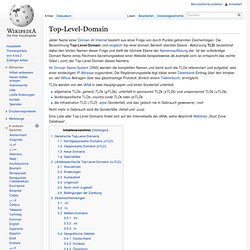 Jeder Name einer Domain im Internet besteht aus einer Folge von durch Punkte getrennten Zeichenfolgen. Die Bezeichnung Top-Level-Domain (von englisch top-level domain ' Bereich oberster Ebene', Abkürzung TLD ) bezeichnet dabei den letzten Namen dieser Folge und stellt die höchste Ebene der Namensauflösung dar. Ist der vollständige Domain-Name eines Rechners beziehungsweise einer Website beispielsweise de.example.com , so entspricht das rechte Glied ( com ) der Top-Level-Domain dieses Namens.
Kategorie: Länderspezifische Top-Level-Domain
Liste länderspezifischer Top-Level-Domains
Weltkarte mit eingetragenen ccTLDs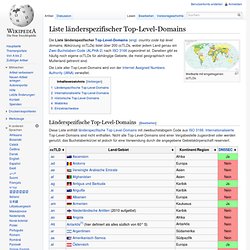 ISP | Internet Service Provider