Document Management Online Web App
DocsInOffice.com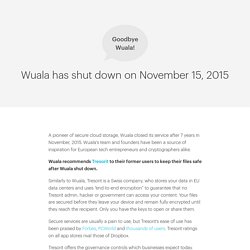 Backup. Securely store and back up your files online and access them from anywhere. All files are encrypted. Sync.
Syncplicity is an enterprise-grade online file sharing and mobile collaboration solution. Backed by EMC, it provides users with an experience they love and gives IT the security and control it needs. My Business Solution "And users need to access files on them"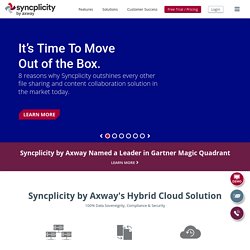 File Storage, Sync & Sharing Cloud Service | Mobile Document Access | File Management | Syncplicity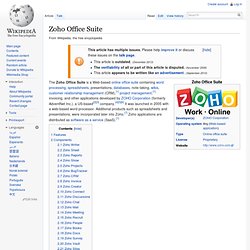 The Zoho Office Suite is a Web-based online office suite containing word processing, spreadsheets, presentations, databases, note-taking, wikis, customer relationship management (CRM),[1] project management,[1] invoicing, and other applications developed by ZOHO Corporation (formerly AdventNet Inc.), a US-based[2][3] company.[4][5][6] It was launched in 2005 with a web-based word processor. Additional products such as spreadsheets and presentations, were incorporated later into Zoho.[7] Zoho applications are distributed as software as a service (SaaS).[1] Features[edit]
Zoho Office Suite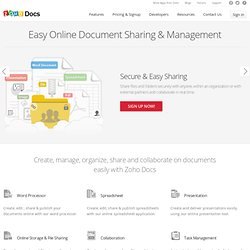 You don't have to install or maintain hardware and software and reasonably priced subscription plans lead to more cost savings. Being a web-based document management solution you can take all your documents with you wherever you go with access to them anytime, anywhere. Scalability, security, reliability or software upgrades, we have them all covered, so you can focus on enhancing business productivity.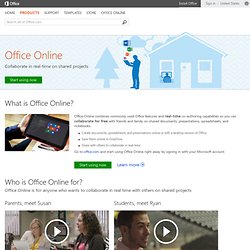 Office Online combines commonly used Office features and real-time co-authoring capabilities so you can collaborate for free with friends and family on shared documents, presentations, spreadsheets, and notebooks. Create documents, spreadsheets, and presentations online or with a desktop version of Office Save them online in OneDrive Share with others to collaborate in real-time Go to office.com and start using Office Online right away by signing in with your Microsoft account.
GroupDocs.Viewer View many different document types on your computer, without special software, with GroupDocs' online document viewer. GroupDocs.Signature GroupDocs.Signature is an easy to use digital signature service.
Live Documents - Office for the Internet Generation.
Online-Backup – Online-Speicher & Datensicherung backup - Mozy.de
Cloud Document Management - DocLanding
iCloud – Deine Inhalte. Auf all deinen Geräten.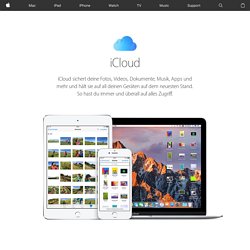 Überall. Ganz automatisch. Genau so, wie es sein sollte. iCloud macht es möglich. Wenn du einen Song kaufst, musst du ihn nicht immer wieder laden, um ihn auf deinen verschiedenen Geräten zu hören. Oder dich fragen, ob im Dokument die neuesten Änderungen sind. Du verlierst auch keine Zeit mehr beim Übertragen von Fotos. iCloud kümmert sich um alles.
COMPUTERBILD-Cloud
Dokumentenmanagementsystem
Hosting / Webspace / Webhosting