Document Management Online Web App
DocsInOffice.com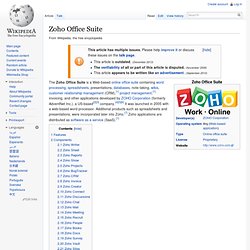 The Zoho Office Suite is a Web-based online office suite containing word processing, spreadsheets, presentations, databases, note-taking, wikis, customer relationship management (CRM),[1] project management,[1] invoicing, and other applications developed by ZOHO Corporation (formerly AdventNet Inc.), a US-based[2][3] company.[4][5][6] It was launched in 2005 with a web-based word processor. Additional products such as spreadsheets and presentations, were incorporated later into Zoho.[7] Zoho applications are distributed as software as a service (SaaS).[1] Features[edit]
Zoho Office Suite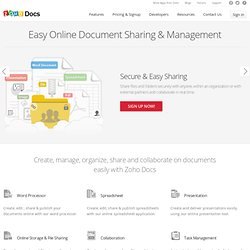 You don't have to install or maintain hardware and software and reasonably priced subscription plans lead to more cost savings. Being a web-based document management solution you can take all your documents with you wherever you go with access to them anytime, anywhere. Scalability, security, reliability or software upgrades, we have them all covered, so you can focus on enhancing business productivity.
Online Document Management and Collaboration Apps by GroupDocs
Live Documents - Office for the Internet Generation.
Online-Backup – Online-Speicher & Datensicherung backup - Mozy.de
Cloud Document Management - DocLanding
iCloud – Deine Inhalte. Auf all deinen Geräten.
COMPUTERBILD-Cloud
Dokumentenmanagementsystem
Hosting / Webspace / Webhosting