Create Website Online Web Apps
Free Website Builder, Free Content Management System and Free Shopping Cart - Web Widgets Ltd - NZ. Mozilla Thimble. Mozilla Thimble - Web-App. Mit dieser Web-App erstellen Sie Ihre eigene Webseite in HTML - völlig kostenfrei.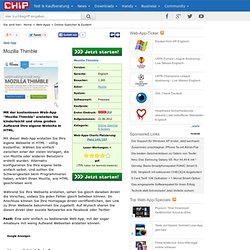 Wählen Sie einfach zwischen einer der vielen Vorlagen, die von Mozilla oder anderen Benutzern erstellt wurden. Alternativ konfigurieren Sie Ihre eigene Seite einfach selbst. LaunchRock - Set up a "Launching Soon" page in minutes. Headway Drag and Drop WordPress Theme. Free Flash Effect Generator. Style Tiles. Build a Website - Create a Blog. Make a homepage in minutes.
---