Cloud Computing :
26 Cloud-Specific IT Certifications CIO
Kategorie: Cloud Computing
Elemente des Cloud-Computing Cloud-Computing (deutsch etwa: Rechnen in der Wolke ) umschreibt den Ansatz, abstrahierte IT-Infrastrukturen (z. B. Rechenkapazität, Datenspeicher, Netzwerkkapazitäten oder auch fertige Software ) dynamisch an den Bedarf angepasst über ein Netzwerk zur Verfügung zu stellen. Aus Nutzersicht scheint die zur Verfügung gestellte abstrahierte IT-Infrastruktur fern und undurchsichtig, wie von einer "Wolke" verhüllt.
Cloud Computing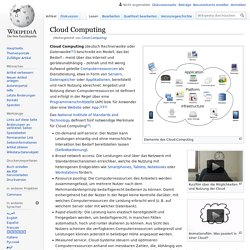 Windows Azure: Cloud-Plattform – Cloud-Hosting – Cloud-Dienste
Cloud Computing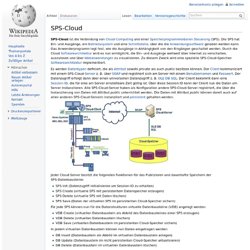 SPS-Cloud
SPS-Cloud ist die Verbindung von Cloud-Computing und einer Speicherprogrammierbaren Steuerung (SPS). Die SPS hat Ein- und Ausgänge, ein Betriebssystem und eine Schnittstelle , über die die Anwendungssoftware geladen werden kann. Das Anwenderprogramm legt fest, wie die Ausgänge in Abhängigkeit von den Eingängen geschaltet werden. Durch die Cloud Softwarearchitektur wird es nun ermöglicht, die Ein- und Ausgänge weltweit über Internet zu verschalten, auszulesen und über Webanwendungen zu visualisieren.
Category:Cloud computing
Category:Cloud applications
Category:Cloud storage
Cloud storage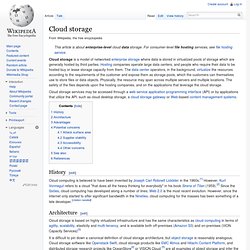 Cloud storage is a model of networked online storage where data is stored in virtualized pools of storage which are generally hosted by third parties. Hosting companies operate large data centers, and people who require their data to be hosted buy or lease storage capacity from them. The data center operators, in the background, virtualize the resources according to the requirements of the customer and expose them as storage pools, which the customers can themselves use to store files or data objects.
Internet storage
Cloud computing logical diagram Cloud computing is the use of computing resources (hardware and software) that are delivered as a service over a network (typically the Internet ). The name comes from the use of a cloud -shaped symbol as an abstraction for the complex infrastructure it contains in system diagrams. Cloud computing entrusts remote services with a user's data, software and computation. End users access cloud-based applications through a web browser or a light-weight desktop or mobile app while the business software and user's data are stored on servers at a remote location.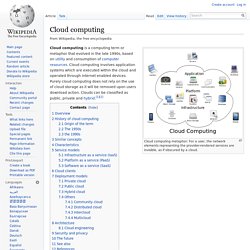 Cloud is a browser-based operating system created by Good OS LLC, a Los Angeles -based corporation. The company initially launched a Linux distribution called gOS which is heavily based on Ubuntu , now in its third incarnation. [ edit ] Overview Cloud is a simplified operating system that runs just a web browser , providing access to a variety of web-based applications that allow the user to perform many simple tasks without booting a full-scale operating system. Because of its simplicity, Cloud can boot in just a few seconds. [ 1 ] The operating system is designed for Netbooks, Mobile Internet Devices, and PCs that are mainly used to browse the Internet.
Cloud (operating system)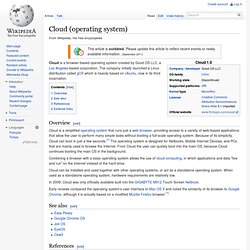 Cloud Server Provider, Cloud Hosting, VPS Hosting | Europe / UK | Cloudee.eu
Web cloud storage & online backup