Cloud Computing :
26 Cloud-Specific IT Certifications CIO
2013 is here and as we look back at 2012, few areas within the IT industry have seen the kind of growth that cloud computing has experienced. If your company is locked into a specific cloud service vendor then choosing which IT certification to get may be simple. However, because cloud computing comes in many flavors and is still in its infancy, deciding which cloud certification to get is difficult for many IT professionals. To help you figure out what vendor offerings are out there and where to begin, CIO.com has put together a list of currently available cloud certifications. This list isn't all-inclusive, simply because the cloud computing market is in a state of transformation.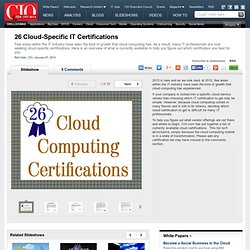 Kategorie: Cloud Computing
Elemente des Cloud-Computing Vereinfacht kann das Konzept wie folgt beschrieben werden: Ein Teil der IT-Landschaft (in diesem Zusammenhang etwa Hardware wie Rechenzentrum, Datenspeicher sowie Software) wird auf Nutzerseite nicht mehr selbst betrieben oder örtlich bereitgestellt, sondern bei einem oder mehreren Anbietern als Dienst gemietet, der meist geografisch fern angesiedelt ist. Die Anwendungen und Daten befinden sich dann nicht mehr auf dem lokalen Rechner oder im Firmenrechenzentrum, sondern in der (metaphorischen) Wolke (englisch cloud). Das Gestaltungselement eines abstrahierten Wolkenumrisses wird in Netzwerkdiagrammen häufig zur Darstellung eines nicht näher spezifizierten Teils des Internets verwendet. Begriffsbestimmung[Bearbeiten]
Cloud Computing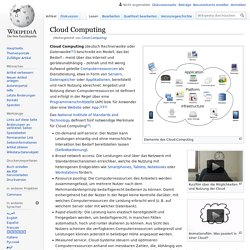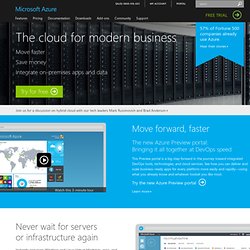 Windows Azure Unlimited Possibilities Windows Azure is an open and flexible cloud platform that enables you to quickly build, deploy and manage applications across a global network of Microsoft-managed datacenters. Learn more Virtual Machines
Windows Azure: Cloud-Plattform – Cloud-Hosting – Cloud-Dienste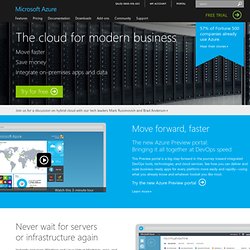 Windows Azure Unlimited Possibilities Windows Azure is an open and flexible cloud platform that enables you to quickly build, deploy and manage applications across a global network of Microsoft-managed datacenters. Learn more
Cloud Computing steht für: Daten jederzeit von überall. Die Cloud fungiert als Online-Speicher für Ihre Daten, Bilder, Filme und Musikstücke. Mit Services wie Dropbox, iCloud, MyDrive und anderen verwalten Sie Ihre Daten wie eine virtuelle Festplatte kostenlos im Internet und haben mit jedem Gerät Zugang auf die Files und Ihre Cloud. Das Online-Backup der Dateien ist weitestgehend sicher. Das Cloud COMPUTER BILD-Special liefert Ihnen News, Downloads, Tests, Tipps und Tricks rund um das Thema Cloud Computing. Sie sind am Cloud Computing interessiert?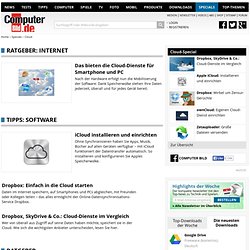 Cloud Computing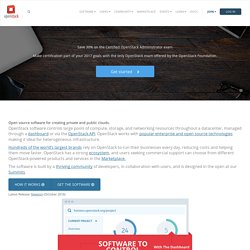 OpenStack OpenStack is a global collaboration of developers and cloud computing technologists producing the ubiquitous open source cloud computing platform for public and private clouds. The project aims to deliver solutions for all types of clouds by being simple to implement, massively scalable, and feature rich. The technology consists of a series of interrelated projects delivering various components for a cloud infrastructure solution. Who's behind OpenStack? Founded by Rackspace Hosting and NASA, OpenStack has grown to be a global software community of developers collaborating on a standard and massively scalable open source cloud operating system.
Category:Cloud computing
Category:Cloud applications
Category:Cloud storage
This category covers online data and file storage which is more oriented to primary storage (not a backup). See also Category:File hosting and Comparison of file hosting services for a list of file hosting services. (Wikipedia does not (yet) have a category for File hosting services). See also the related Category:Online backup services for online and remote computer data backup applications which typically include an application that coordinates the backup process from the user's system. Subcategories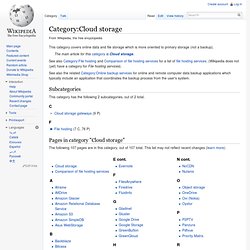 Cloud storage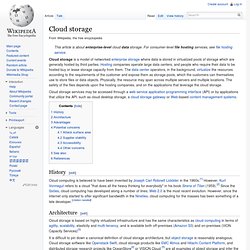 Cloud storage is a model of networked enterprise storage where data is stored in virtualized pools of storage which are generally hosted by third parties. Hosting companies operate large data centers, and people who require their data to be hosted buy or lease storage capacity from them. The data center operators, in the background, virtualize the resources according to the requirements of the customer and expose them as storage pools, which the customers can themselves use to store files or data objects.
Internet storage
Cloud computing is a phrase used to describe a variety of computing concepts that involve a large number of computers connected through a real-time communication network such as the Internet.[1] In science, cloud computing is a synonym for distributed computing over a network, and means the ability to run a program or application on many connected computers at the same time. The phrase also more commonly refers to network-based services, which appear to be provided by real server hardware, and are in fact served up by virtual hardware, simulated by software running on one or more real machines. Such virtual servers do not physically exist and can therefore be moved around and scaled up (or down) on the fly without affecting the end user - arguably, rather like a cloud. The popularity of the term can be attributed to its use in marketing to sell hosted services in the sense of application service provisioning that run client server software on a remote location. Advantages[edit]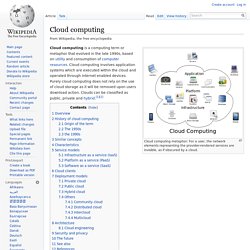 Cloud is a simplified operating system that runs just a web browser, providing access to a variety of web-based applications that allow the user to perform many simple tasks without booting a full-scale operating system. Because of its simplicity, Cloud can boot in just a few seconds.[1] The operating system is designed for Netbooks, Mobile Internet Devices, and PCs that are mainly used to browse the Internet. From Cloud the user can quickly boot into the main OS, because Cloud continues booting the main OS in the background. Combining a browser with a basic operating system allows the use of cloud computing, in which applications and data "live and run" on the Internet instead of the hard drive. Cloud can be installed and used together with other operating systems, or act as a standalone operating system.
Cloud (operating system)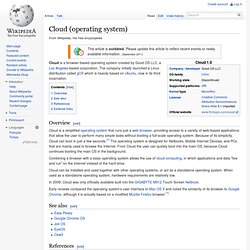 Get access to your Cloud server. Choose the size of your new server, pay online with Credit Card and get your Linux or Windows server in one minute . Most popular 3.5 GHz 1880 MB 25 GB 1.5 TB Intelligent and easy to use . Don't waste your time with complicated solutions.
Cloud Server Provider, Cloud Hosting, VPS Hosting | Europe / UK | Cloudee.eu
Web cloud storage & online backup