Bildersuche
Nature is the most populated image section. Travel photos are classified by regions: Africa, America, Asia, Oceania, Europe. The remaining categories are: art, food, object, people, technology, transport. Each photo can be downloaded in 7 different sizes. Most of the photos have been taken during summer holydays.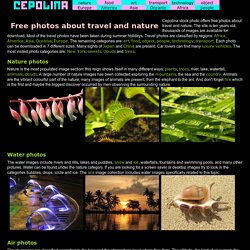 Alle Fotos kostenlos und lizenzfrei | www.FotoDatenbank.com
twittern auf facebook liken Was sind eigentlich Bildagenturen und wie funktionieren sie? Bildagenturen sind Organisationen oder Unternehmen, die sich auf das Vermarkten von Bildern, das können Fotos, Illustrationen, Kopien von Gemälden oder auch Standaufnahmen von Filmen (auch footage genannt), spezialisiert haben. In Deutschland gibt es im Wesentlichen drei Arten von Bildagenturen: Gewerbliche Fotoagenturen, die das Bildmaterial von Fotografen organisieren, aufbereiten und vertreiben.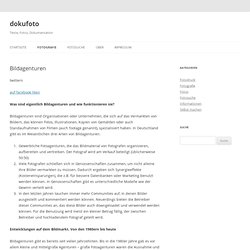 Lizenzfreie Fotos
Kostenlose Bilder / Fotos und kostenloses Webdesign-Tutorial, Homepage-Gestaltung, Fotos für die Homepage
Zur Zeit stehen insgesamt 298 kostenlose lizenzfreie Fotos bzw. Bilder in einer hohen Qualität auf meiner Seite zur kostenlosen Verfügung. Die Fotos sind für die Homepage-Gestaltung gedacht, können aber natürlich auch an anderer Stelle kostenlos verwendet werden. Solltest du dir unsicher sein, ob der von dir gewünschte Verwendungszweck erlaubt ist, lies einfach mal die Nutzungsbedingungen.
Kostenlose Fotos, lizenzfreie Fotos, kostenlose Bilder, Strukturfotos, Strukturen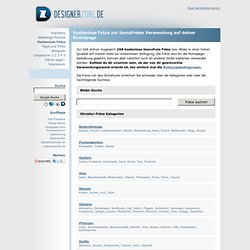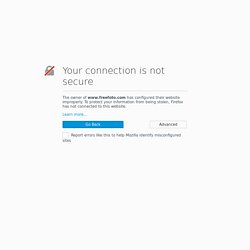 FreeFoto.com is made up of 132549 images with 183 sections organized into 3640 categories. FreeFoto.com is the largest collection of free photographs on the Internet (link back and attribution required). See FREE USE RULES. The comprehensive, yet easy to navigate site, offers images that are free for on-line use, with higher quality versions available for sale. Also non-commercial users may download our web size images to use off-line in school projects, church services, cards, leaflets, etc. Basically if your off-line use is not commercial you can download our web size images for free.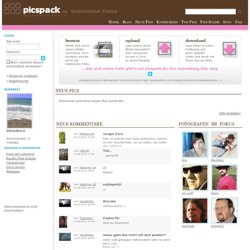 querbeet Nashornkäfer-Puppe Kommentare: 0 ghosthacker48
picspack.de - kostenlose Fotos
Photo Blog Directory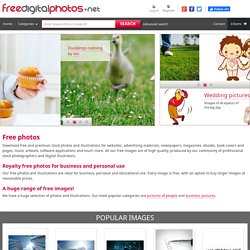 Download free and premium stock photos and illustrations for websites, advertising materials, newspapers, magazines, ebooks, book covers and pages, music artwork, software applications and much more. All our free images are of high quality, produced by our community of professional stock photographers and digital illustrators. Royalty free photos for business and personal use Our free photos and illustrations are ideal for business, personal and educational use. Every image is free, with an option to buy larger images at reasonable prices.
Hochwertige, kostenlose Bilder zu finden ist nicht einfach - wegen Urheber- und Lizenzrechten, erforderlicher Quellenangabe oder einfach wegen mangelnder Qualität. Aus diesem Grund gibt es Pixabay, eine Community zum Teilen von brillianten Public Domain Bildern. Deine Quelle für freie Vektorgrafiken, freie Cliparts und freie Fotos.