2check
SimilarWeb - Find the Best Sites on the Internet. All-in-One Gestures. Video DownloadHelper. Pearltrees Search. ShareMeNot. IE Tab V2 (Enhanced IE Tab) Web Developer. ProxMate. Flashblock. BetterPrivacy. EPUBReader. Service Directory - Service Codes. Forecastfox Weather. NetVideoHunter Video Downloader. Read It Later.
iMacros for Firefox. User Agent Switcher. CoolPreviews. Tab Mix Plus. Image Zoom. YSlow. LastPass. Google Mail Manager. Session Manager. Secure Login. SQLite Manager. BugMeNot. Tab Scope. ColorZilla. TinEye Reverse Image Search. Entwickler-Zentrum. Firesay :: Firefox Add-ons. Say hello to hands-free web applications | Firesay. Firesay für Firefox. Auf Mobiltelefonen ist die Sprachsteuerung schon längst eine Alternative zur einfachen Navigation per Fingereingabe.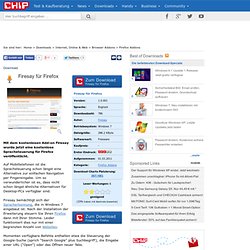 Um so verwunderlicher ist es, dass nicht schon längst ähnliche Alternativen für Desktop-PCs verfügbar sind. Firesay bemächtigt sich der Spracherkennung, die in Windows 7 eingebaut ist. Nach der Installation der Erweiterung steuern Sie Ihren Firefox dann mit Ihrer Stimme. Leider funktioniert dies nur mit einer begrenzten Anzahl von Websites. Add-on Compatibility Reporter. Editing an add-on to change its compatibility.
From MozillaZine Knowledge Base This article describes how to change an add-on's compatibility information to make it installable for versions of applications other than it's marked as supporting.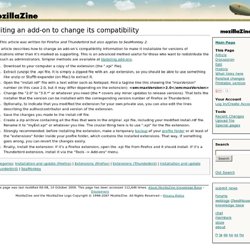 This is an advanced method useful for those who want to redistribute the file, such as administrators.
---