Jouer
LEFT HAND FINGER DEXTERITY EXERCISES for the ukulele by Ukulele Mike Lynch | UKULELE MIKE LYNCH - All things UKULELE. I recently published 2 videos on You Tube and VIMEO offering 2 simple exercises to increase strength, power, independence and flexibility of the fingers of the left hand.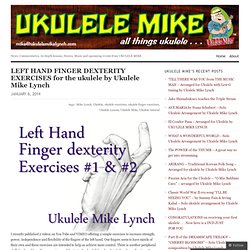 Our fingers seem to have minds of their own and these exercises are intended to help us achieve more control. There is another peripheral skill developed from these exercises and that is to develop left hand and right hand coordination. As we move from string to string the right hand needs to receive a communication from our brains to make a change in position to match the string that the left hand is playing.
This seems like a no brainer but think about it. . . JAZZ UKULELE - LESSON #1 - Taught by "UKULELE MIKE" Épinglé par Michael Lynch (UKULELE MIKE) sur UKULELE WORLDWIDE - Host… Play Ukulele By Ear - Beyond D DU UDU : Favorite 'Go-To' Strums from 5 Ukulele Bloggers. Everyone seems to know the unofficial international ukulele strum, D DU UDU, but there is so much more you can do with the right hand. 5 ukulele bloggers weigh-in on their favorite 'go to' strums . . .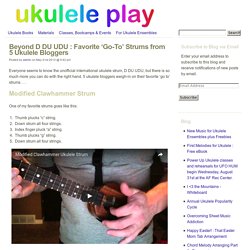 Modified Clawhammer Strum One of my favorite strums goes like this: How to Play Ukulele by Jake Shimabukuro. Chord Finder. Tiki King's Ukulele School. Liste de chansons.
Ukela Ukulélé: C'est Le Blog Ukulélé! Category » Ukulele lessons « @ C.O.U.L.E. Ezfolk. If you're a beginner, the best place to start is with our Basic Ukulele Video Course.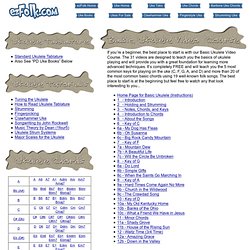 The 31 videos are designed to teach you the basics of ukulele playing and will provide you with a great foundation for learning more advanced techniques. It's completely FREE and will teach you the 5 most common keys for playing on the uke (C, F, G, A, and D) and more than 20 of the most common basic chords using 19 well-known folk songs. The best place to start is at the beginning but feel free to watch any that look interesting to you... Ukuke - accords. C Regular Tuning Chord Chart.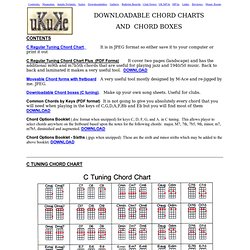 It is in JPEG format so either save it to your computer or print it out C Regular Tuning Chord Chart Plus (PDF Forma) It cover two pages (landscape) and has the additional m9th and m7b5th chords that are useful for playing jazz and 1940/50 music. Méthode de Ukulélé Wiki MDHF - Wiki Ukulele MDHF. Un article de Wiki Ukulele MDHF.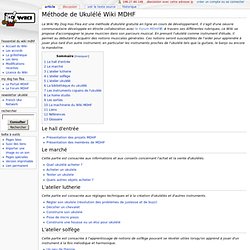 Le Wiki My Dog Has Flea est une méthode d'ukulélé gratuite en ligne en cours de développement. Il s'agit d'une oeuvre communautaire développée en étroite collaboration avec le Forum MDHF. A travers ses différentes rubriques, ce Wiki se propose d'accompagner le jeune musicien dans son parcours musical. Ralph Shaw, Vancouver - Learn to Play The Ukulele. Essential Strums for the Ukulele - DVD Can't wait for shipping?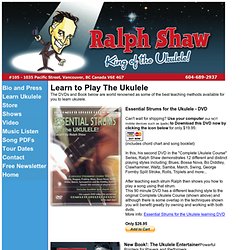 Use your computer (but NOT mobile devices such as ipads) to Download this DVD now by clicking the icon below for only $19.95: (includes chord chart and song booklet) In this, his second DVD in the "Complete Ukulele Course" Series, Ralph Shaw demonstrates 12 different and distinct playing styles including; Blues, Bossa Nova, Bo Diddley, Clawhammer, Waltz, Samba, March, Swing, George Formby Split Stroke, Rolls, Triplets and more... After teaching each strum Ralph then shows you how to play a song using that strum.This 90 minute DVD has a different teaching style to the original Complete Ukulele Course (shown above) and although there is some overlap in the techniques shown you will benefit greatly by owning and working with both dvds.More info: Essential Strums for the Ukulele learning DVD. Articles pour débutants au ukulélé.
---