Jouer
Beyond D DU UDU : Favorite 'Go-To' Strums from 5 Ukulele Bloggers
Everyone seems to know the unofficial international ukulele strum, D DU UDU, but there is so much more you can do with the right hand. 5 ukulele bloggers weigh-in on their favorite 'go to' strums . . . Modified Clawhammer Strum One of my favorite strums goes like this: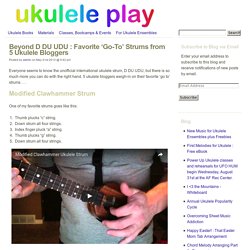 How to Play Ukulele by Jake Shimabukuro
ROOTS ROCK REGGAE | BOB MARLEY COVER
Tiki King's Ukulele School
Liste de chansons
Ukela Ukulélé: C'est Le Blog Ukulélé!
Category » Ukulele lessons « @ C.O.U.L.E
ezfolk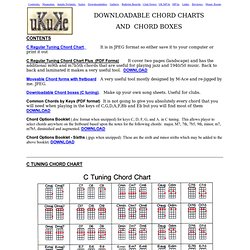 ukuke - accords
C Regular Tuning Chord Chart . It is in JPEG format so either save it to your computer or print it out C Regular Tuning Chord Chart Plus (PDF Forma) It cover two pages (landscape) and has the additional m9th and m7b5th chords that are useful for playing jazz and 1940/50 music.
Méthode de Ukulélé Wiki MDHF - Wiki Ukulele MDHF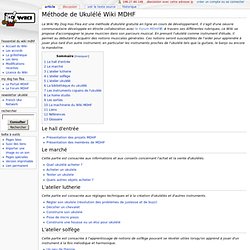 Un article de Wiki Ukulele MDHF. Le Wiki My Dog Has Flea est une méthode d'ukulélé gratuite en ligne en cours de développement. Il s'agit d'une oeuvre communautaire développée en étroite collaboration avec le Forum MDHF . A travers ses différentes rubriques, ce Wiki se propose d'accompagner le jeune musicien dans son parcours musical.
YouTab - Social Tabs and Chords for Guitar, Bass and Drums
Ralph Shaw, Vancouver - Learn to Play The Ukulele
The Completely Amazing Complete Ukulele Course Chord Chart!!! Put one of these in your uke case and you'll never be stuck for a chord again. Sure there are lots of chord charts out there but this one is comprehensive, easy to use, and small to carry. Developed by Ralph Shaw you cannot buy this chord chart. You can only get it for free when you subscribe to The Ukulele Entertainer Newsletter. The newsletter gives tips about the art of ukulele playing, singing and live performance.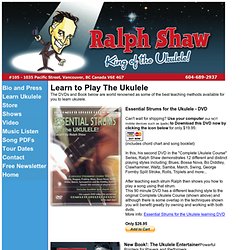 Ukulélé Blog : Pour bien débuter ! » Articles pour débutants au ukulélé.
Rien ne nous oblige à faire écouter, apprendre, faire chanter et faire jouer aux enfants autre chose que ce que peuvent écouter leurs ainés, à la condition, bien entendu, que ce soit de la bonne musique ! Vous trouverez néanmoins dans cette rubrique, quelques chansons plus spécifiquement pour les petits… A la claire fontaine Au clair de la lune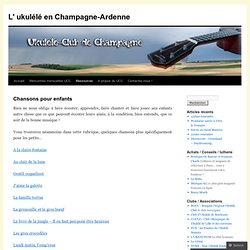 Chansons pour enfants | L' ukulélé en Champagne-Ardenne