Inspiration
CSS Web Design Award Winners Gallery - CSSDA. Themes Gallery | Trial Themes - Part 2. CSS Gallery | The CSS website Awards. CSS Websites | Design Inspiration + Visual Art Inspiration | Designflavr page-11 | 16 Best Web Design Galleries for Inspiration. Web design galleries offer designers and developers creative inspiration on their own designs.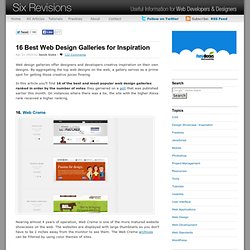 By aggregating the top web designs on the web, a gallery serves as a prime spot for getting those creative juices flowing. In this article you'll find 16 of the best and most popular web design galleries ranked in order by the number of votes they garnered on a poll that was published earlier this month. On instances where there was a tie, the site with the higher Alexa rank received a higher ranking. 16. Web Creme. Premium Wordpress Themes - Best Professional Templates - PremiumWPthemes.Me.
Head Up in the Clouds: Web Design that Uses Sky Elements - Web Design Blog – DesignM.ag. Get the FlatPix UI Kit for only $7 - Learn More or Buy Now It is always amazing to designer incorporating different element of nature in their designs.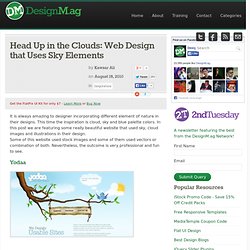 This time the inspiration is cloud, sky and blue palette colors. In this post we are featuring some really beautiful website that used sky, cloud images and illustrations in their design. Corporate Website Design: Creative and Beautiful Solutions - Smashing Magazine. Advertisement What do corporate websites have in common with other people's children?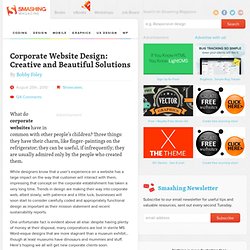 Three things: they have their charm, like finger-paintings on the refrigerator; they can be useful, if infrequently; they are usually admired only by the people who created them. While designers know that a user's experience on a website has a large impact on the way that customer will interact with them, impressing that concept on the corporate establishment has taken a very long time. All sites – Graph Paper Press Showcase. Flash Components - Jumpeye - V3 Components for Flash CS3 and Flash 8. Web Design Gallery: Flash Web Site Design, Flash Websites Design Gallery Cool Website Templates and Examples.
Headers | FirstHandWeb. Creative 404 Error Pages With Characters | Showcases | PelFusion. What if viewers come to your blog or site looking for something and it doesn't exist.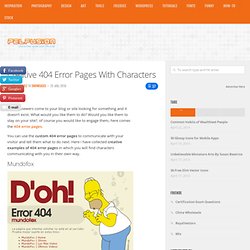 What would you like them to do? Would you like them to stay on your site? , of course you would like to engage them, here comes the 404 error pages. 42 Creative & Excellent Examples Of Illustrations In Web Design. Features. Mind Blowing Illustrations & Branding By Fully Illustrated | Ins. While browsing internet i came across a media company named 'Fully Illustrated' which offers creative services, from design and branding to illustration and 3D motion graphics.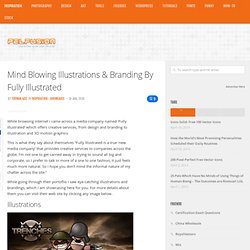 This is what they say about themselves "Fully Illustrated is a true 'new media company' that provides creative services to companies across the globe, I'm not one to get carried away in trying to sound all big and corporate, so I prefer to talk in more of a one to one fashion, it just feels much more natural. So I hope you don't mind the informal nature of my chatter across the site." While going through their portoflio i saw eye-catching illustrations and brandings, which i am showcasing here for you. For more details about them you can visit their web site by clicking any image below. Illustrations. XHTML Chef » Our Portfolio. Web Design Inspiration | VisonwidGet. 3D illustrations created by James Shepherd, a freelance commercial illustrator based in Milwaukee, Wisconsin.
Full of rich colors and energetic, his illustrations are perfect for capturing the attention on anyone and are fun to look at. James has been working in the industry since 1996, and produced many artworks in a range of contexts. Some of his clients include Disney, Hasbro, Frito-Lay, and Burger King, just to name a few. One.Twenty.Seven - Professional Design. CSSTreat.com - Foster Your Finesse!
---