Blogs
Mac.AppStorm. On the hunt for the best open source resources and more..... 208 free and fresh RSS Feed web buttons By: OSH Editorial In: FreeBee Icons We're pleased to announce that we finally have an freebee here at OpenSourceHunter.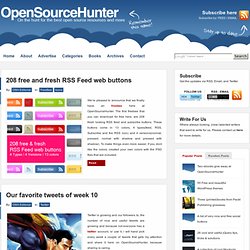 16 Great Graphic Design Blogs and Sites. What are your favorite design blogs and sites?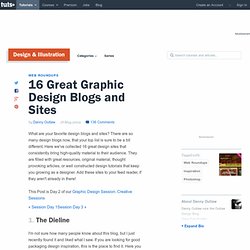 There are so many design blogs now, that your top list is sure to be a bit different. Here we've collected 16 great design sites that consistently bring high-quality material to their audience. They are filled with great resources, original material, thought provoking articles, or well constructed design tutorials that keep you growing as a designer. Add these sites to your feed reader, if they aren't already in there!
Los Angeles Web Designer | Web Designer & Front-end Developer - Soh Tanaka | Servicing All of Los Angeles County, South Bay Torrance, and more. Design Blog | Inspiration and Resources for Designers | Design S. PelFusion.com. Productivity | FreelanceFolder - Part 3. Graphic Design Blog, Tips and Jobs. Elite By Design - Web Design, Blogging, Photoshop. 80 Large Background Websites. As the monitor resolution and internet speed is advancing, it seems like more and more designers use over-sized photo or illustrated image as the website's background.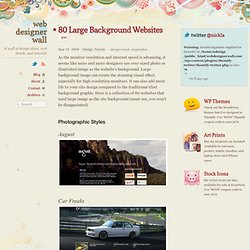 Large background image can create the stunning visual effect, especially for high resolution monitors. It can also add more life to your site design compared to the traditional tiled background graphic. Here is a collection of 80 websites that used large image as the site background (must-see, you won't be disappointed). Photographic Styles. 12 Alternative Web Browsers You Should Try. Chances are you're viewing this page in one of the following web browsers: Firefox, Internet Explorer, or Chrome.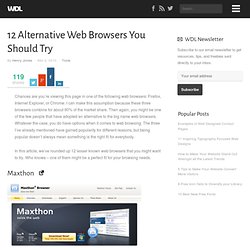 I can make this assumption because these three browsers combine for about 90% of the market share. Then again, you might be one of the few people that have adopted an alternative to the big name web browsers. Whatever the case, you do have options when it comes to web browsing. The three I've already mentioned have gained popularity for different reasons, but being popular doesn't always mean something is the right fit for everybody.
TutorialBlog | Photoshop tutorials, design tutorials, writing, freelance advice, social media, new media, art and design. Inspired Magazine - daily graphic design inspiration. DesignCritique - Another Perspective in Design - Part 2. For those of you who don't already know this, Google is the largest and most used search engine.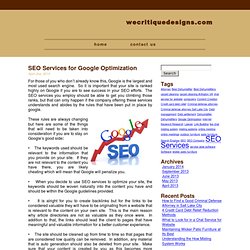 So it is important that your site is ranked highly on Google if you are to see success in your SEO efforts. The SEO services you employ should be able to get you climbing those ranks, but that can only happen if the company offering these services understands and abides by the rules that have been put in place by google. These rules are always changing but here are some of the things that will need to be taken into consideration if you are to stay on Google's good side: • The keywords used should be relevant to the information that you provide on your site.
---