Tools
7 Keys to Reading Faster. Photo by Nathiya Prathnadi Want to read faster?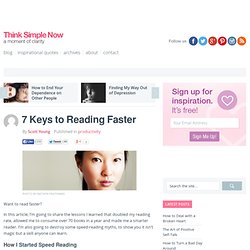 In this article, I'm going to share the lessons I learned that doubled my reading rate, allowed me to consume over 70 books in a year and made me a smarter reader. I'm also going to destroy some speed-reading myths, to show you it isn't magic but a skill anyone can learn. Interrogating Texts: 6 Reading Habits to Develop in Your First Year at Harvard - Research Guides.
Critical reading—active engagement and interaction with texts—is essential to your academic success at Harvard, and to your intellectual growth.
Research has shown that students who read deliberately retain more information and retain it longer. Your college reading assignments will probably be more substantial and more sophisticated than those you are used to from high school. The amount of reading will almost certainly be greater. College students rarely have the luxury of successive re-readings of material, either, given the pace of life in and out of the classroom. Free online speed reading software | Spreeder.com. Spreeder is a free service provided by 7-Speed-ReadingTM.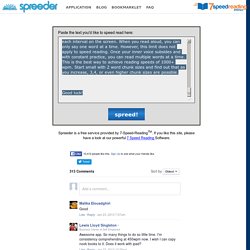 If you like this site, please have a look at our powerful 7 Speed Reading Software. Spreeder.com is a free online speed reading software designed to improve your reading speed and comprehension. Whichbook.
---