Shots & Cocktails
Reese's Peanut Butter Cup Martini. Reese's Peanut Butter cups happen to be quite a commodity in our household.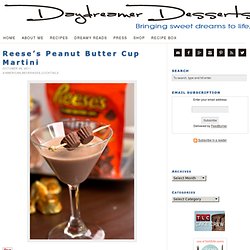 And, for some very strange reason their value seems to increase exponentially during Halloween. Thanks to my careful and thoughtful planning I invested in a small Reese's Peanut Butter hedge fund anticipating their upcoming increase. Which has allowed me to prepare such a delightful cocktail during the height of trick-or-treating season. Wether or not Reese's Peanut Butter Cups are a high commodity in your household, past trends have shown that after a week or two post Halloween they seem to come back down to what I would consider "normal" value. Keep in mind that to make this "candy-like" martini you'll be infusing your own vodka, so there is a week of planning ahead that you'll have to do. 7 Videogame Cocktail Recipes From The Drunken Moogle. See more videogame recipes at The Drunken Moogle.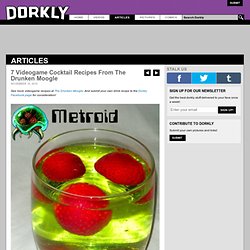 And submit your own drink recipe to the Dorkly Facebook page for consideration! Metroid (Metroid Cocktail) Ingredients:1/2 shot Bacardi Big Apple Rum1/2 shot Coconut Rum1/2 glass Kiwi Strawberry Minute Maid (or Kool-Aid)A little less than 1/2 a glass Sprite3 Strawberries Directions: Shake the two rums and Kiwi Strawberry Minute Maid and pour into a lowball glass. Add the Sprite for a bit of flavor and carbonation. Harry Potter House Sorting Shots | JesterGoblin. This post has been moved over to Castles And Cooks, you're automatically getting redirected!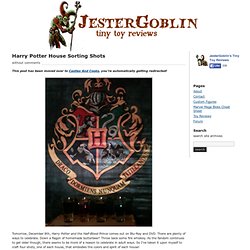 Tomorrow, December 8th, Harry Potter and the Half-Blood Prince comes out on Blu-Ray and DVD. There are plenty of ways to celebrate. Down a flagon of homemade butterbeer! Throw back some fire whiskey. Prom Night Shooter. You'll need: -Shot glass -Grenadine (Density: 1.18) -Coconut Rum (Density: 1.04) -Red/Orange Gummi Bears Soaked in Triple Sec Note: Add gummi bears to a glass mason jar.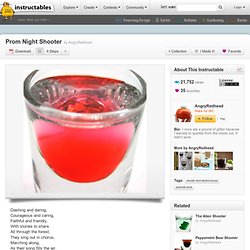 Fill mason jar with Triple Sec until the liqueur is 1-2" above the gummi bears. Soak at room temperature for 12-24 hours. The gummi bears will double in size. The 10 manliest cocktails (and how to make them) – Guyism. The Rainbow Road Shot Challenge The Drunken... The Rainbow Road Shot Challenge The Drunken Moogle reader Mar and her husband submitted a combination of shots, meant to be taken together, called the Rainbow Road Shot challenge.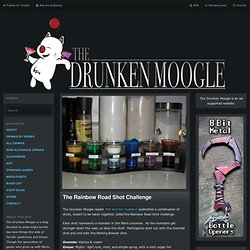 Each shot represents a monster in the Mario universe. As the monsters get stronger down the road, so does the shot! 7UP Mixers. Teleportation Shots (Portal Shots) First Shot...
---