Pudding & Mousse
Peanut Butter Chocolate Dessert Recipe. Espresso Chocolate Mousse | Flour Child. Last night, it rained.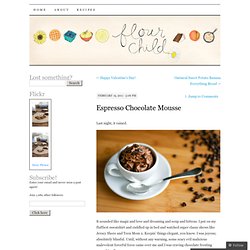 It sounded like magic and love and dreaming and soup and kittens. I put on my fluffiest sweatshirt and cuddled up in bed and watched super classy shows like Jersey Shore and Teen Mom 2. The Best Chocolate Mousse of Your Life Under 5 Minutes : Cafe Fernando – Food Blog - chocolate mousse recipe - herve this - Chocolate. December 22nd, 2010 | Category: Chocolate Two ingredients (seriously, only chocolate and water) and five minutes later, you will be eating The Best Chocolate Mousse of Your Life.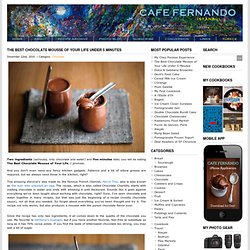 I promise. And you don't even need any fancy kitchen gadgets. Patience and a bit of elbow grease are required, but we always need those in the kitchen, right? This amazing discovery was made by the famous French chemist, Hervé This, who is also known as the man who unboiled an egg. Chocolate Kahlua Mousse Extreme Dessert | Worth The Whisk. It doesn't get much better'n this.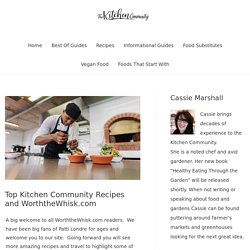 Besides being remarkably easy to make (thanks to the crockpot), once chilled, this food from the Gods becomes super dense, like the center of an incredible chocolate bon bon. Take a bite and you will go, "mmmmmmmm." But heed this warning: do not dish up a portion the size of this photo. Waaaaay too rich. Hazelnut Chocolate Mousse: Healthy! Hazelnuts and Chocolate are a wonderful combination.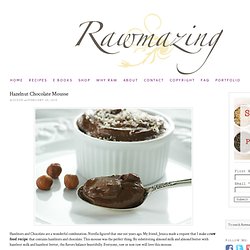 Nutella figured that one out years ago. My friend, Jessica made a request that I make a raw food recipe that contains hazelnuts and chocolate. Chocolate Mousse Recipe : Cafe Fernando – Food Blog - chocolate mousse - mousse - Chocolate. July 13th, 2010 | Category: Chocolate, Puddings and Custards I've told you about the best part of working from home, but I realized I haven't mentioned some of the not-so-delightful sides.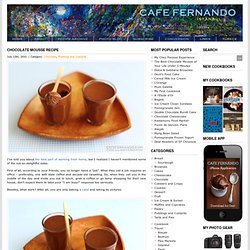 First of all, according to your friends, you no longer have a "job". What they call a job requires an office – preferably, one with stale coffee and decade-old carpeting. So, when they call you in the middle of the day and invite you out to lunch, grab a coffee or go lamp shopping for their new house, don't expect them to take your "I am busy!" Print - Basmati Rice Pudding. Top Chef: Just Desserts Judge Dannielle Kyrillos on Her "Sweetest" Memory. Pudding Cups. Wicked Good Chocolate Peanut Butter Pudding Cups.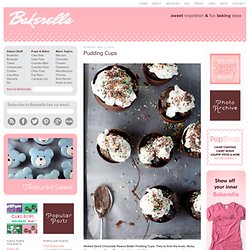 They're from the book, Sticky, Chewy, Messy, Gooey Treats for Kids by Jill O'Connor and just as good as their name states. Jill sent me and my niece a copy of her book as a little thank you for a post I did inspired by her Cheesecake Pops. We had a hard time deciding which recipe to try first, but we kept coming back to these pudding cups. They were really fun to make and even more fun to eat. Wicked Good Chocolate Peanut Butter Pudding Cups.
Do you nibble around the edges first?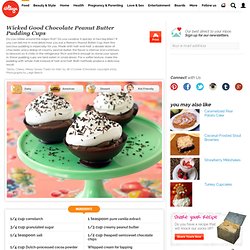 Do you swallow it quickly in two big bites? If you can tell me in vivid detail how you eat a Reese's Peanut Butter Cup, then this luscious pudding is especially for you. Made with half-and-half, a double dose of chocolate, and a dollop of creamy peanut butter, the flavor is intense and continues to blossom as it chills in the refrigerator.
---