Pasta
Weekday Vegetarian: Pasta with Butternut Squash and Fried Sage for a Wonderful Autumn Dinner. Photo: Kelly Rossiter Sometimes you have the happy occurrence when you come across a recipe that sounds absolutely delicious, and you have all of the ingredients on hand without having to slip out to the grocery store.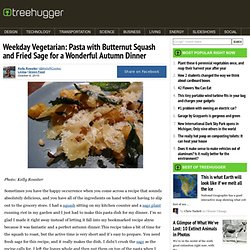 I had a squash sitting on my kitchen counter and a sage plant running riot in my garden and I just had to make this pasta dish for my dinner. I'm so glad I made it right away instead of letting it fall into my bookmarked recipe abyss because it was fantastic and a perfect autumn dinner.This recipe takes a bit of time for the squash to roast, but the active time is very short and it's easy to prepare. You need fresh sage for this recipe, and it really makes the dish.
Fettucine Carbonara with Roasted Tomatoes — Our Life In The Kitchen. I've been craving Carbonara for a while now but was having a hard time justifying the calories.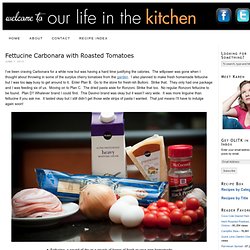 The willpower was gone when I thought about throwing in some of the surplus cherry tomatoes from the garden. I also planned to make fresh homemade fettucine but I was too lazy busy to get around to it. Enter Plan B. Go to the store for fresh-ish Buitoni. Strike that. Pierogies Recipe at Epicurious. Make dough: Put flour in a large shallow bowl and make a well in center.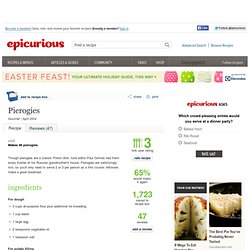 Add water, egg, oil, and salt to well and carefully beat together with a fork without incorporating flour. Continue stirring with a wooden spoon, gradually incorporating flour, until a soft dough forms. Transfer dough to a lightly floured surface and knead, dusting with flour as needed to keep dough from sticking, until smooth and elastic, about 8 minutes (dough will be very soft). Frankel :: NY Times Best Seller & Celebrity Natural Food Chef. Great veggie lasagna!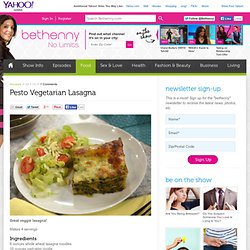 Makes 4 servings Ingredients.
---