Paperwork
click to enlarge Estimated Time (2 - 3 hours) This DIY map is extremely easy to create (just 6 steps) and takes very little time. Don't be fooled by its simplicity, this map will provide your guests with the most important locations for your special day. Get started
DIY Wedding Maps. Quick, Easy, and Fun - Wedding Mapper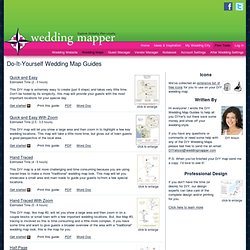 Do you get total stage fright when it comes to signing the guest book at a wedding? I certainly do! I usually end up copying whatever the previous guest has written.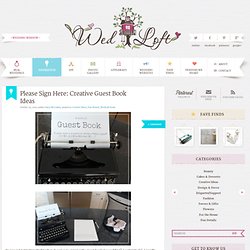 Wedding Details: Creative Guest Book Ideas
Make an impression with ink-block printing, an art form dating back to ninth-century China. Once you've cut out a design, these cards (or envelopes) can be generated quickly. Then you can handwrite words directly on the cards or add a label, as we did for the striped envelope. The laurel-leaf card was made by printing the design on a brown sheet of paper, which was then glued to a plain off-white card.
Handmade Thank-You Cards: Ink-Block Prints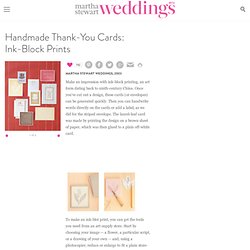 More from Jessica & Tad | The Juice Stop