Non-clothing
Hand Embroidered Note : Daily source of DIY craft projects and inspiration, patterns, how-tos | Craftzine.com. Embroidery Designs at Urban Threads - Projects. Cozy Kid's Roll-Up Nap Blanket - Sew4Home. When we're little, we simply have no idea have wonderful it is to be able nap.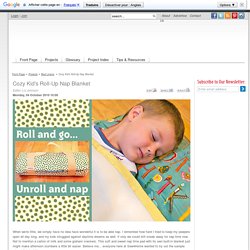 I remember how hard I tried to keep my peepers open all day long, and my kids struggled against daytime dreams as well. If only we could still sneak away for nap time now. Charming Window Pillows. Hi!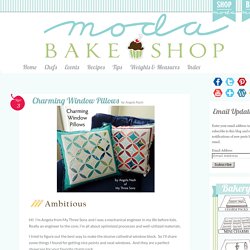 I'm Angela from My Three Sons and I was a mechanical engineer in my life before kids. Really an engineer to the core, I'm all about optimized processes and well-utilized materials. I tried to figure out the best way to make the elusive cathedral window block. Tutorial: Scrap Buster Fall Pillow. This is my favorite thing to do with my little scraps, and since its Scrap Buster month over at Sew, Mama, Sew, I made a quick tutorial so you can make your own.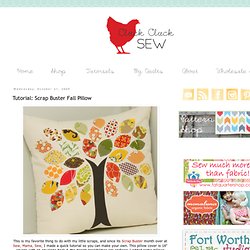 This pillow cover is 16" square with an envelope back & the design possibilities are endless! I added some pillows I've previously made with this same method at the end of this post. Happy Sewing! You'll Need: Design*Sponge » Blog Archive » sewing 101: making a pouf. Add a burst of color to your room with this crafty pouf!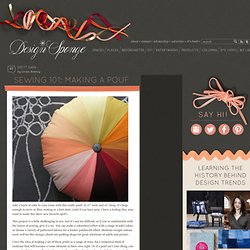 At 17" wide and 10" deep, it's large enough to serve as floor seating or a foot stool. (And if you have pets, I have a feeling they may want to make this their new favorite spot!) This project is a little challenging to sew, but it's not too difficult, so if you're comfortable with the basics of sewing, give it a try. You can make a colorwheel effect with a range of solid colors, or choose a variety of patterned fabrics for a louder patchwork effect. Sewing Tutorial: Piggy Pillow | craftpassion.com. As promised, I have completed the tutorial and the pattern for the "Be My Valentine – Piggy Pillow", which was published 3 weeks ago.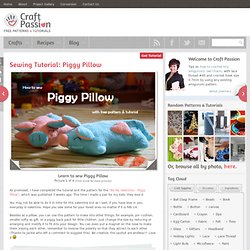 This time I made a pair for my kids, they love it. You may not be able to do it in time for this valentine but as I said, if you have love in you, everyday is valentine. How to Sew a Pottery Barn-esque 'Button' Pillow Slipcover « DIY Maven. I've been eyeing PB's 'button' pillow slipcovers but not to buy one.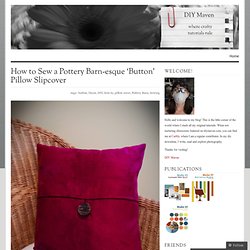 I was giving them a once over to copy them. One of theirs will set you back $24 (and that's just for the cover). My version cost 6 bucks (yay remnants!) I had the pillow form on hand and the button too. French Desk Set: Basket Liners. I adore being organized.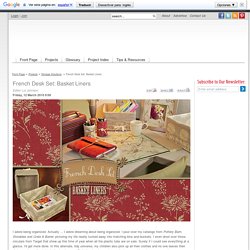 Actually ... I adore dreaming about being organized. Hooded Towel and Washcloth Set. This project is relatively quick and very simple to sew.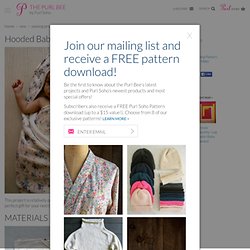 I think it would make a perfect gift for your next baby shower! Materials To make one 31-inch square towel and two 9-inch washcloths: Please keep in mind that the Terry Cloth used here is a knit fabric so it has a lot more stretch that the sheer floral. Be very careful when cutting and sewing it not to stretch it out.
---