Meals
Get flash to fully experience Pearltrees
Maybe not your Mom's version of this all-time favorite comfort food but a bit of basil and tomatoes brings this dish to a whole new flavor level. INGREDIENTS 1 package (16 ounces) multigrain or whole wheat rotini or penne pasta 1 can (14 1/2 ounces) diced tomatoes, drained 2 tablespoons margarine or butter 1 cup panko (Japanese-style bread crumbs) or cracker crumbs 3/4 cup freshly grated Romano cheese 1 small onion, chopped 1 clove garlic, finely chopped 3 tablespoons cornstarch 4 cups reduced-fat (2%) milk Salt and ground black pepper 10 ounces reduced-fat (2%) sharp Cheddar cheese, grated 1 cup loosely packed fresh basil leaves, chopped PREPARATION 1. Heat large covered saucepot of water to boiling over high heat.
Sweet-Hot Vegan Pumpkin Soup If you like your pumpkin with punch, then have I got a crock-pot soup for you! This is a recipe I found in a non-vegetarian crockpot book and featured on my former blog back in 2007 . The pumpkin soup is tasty enough to re-feature here. The slow cooker recipe was easy to veganize–I replaced the chicken broth with vegetable broth, and the three tablespoons honey became three tablespoons agave nectar.
Totally addicting bar snack or nutritious side dish? You decide. I am completely fine with it being both. Incidentally, Desmond loves this as much as Paul and I do. We tend to eat it with our fingers before dinner.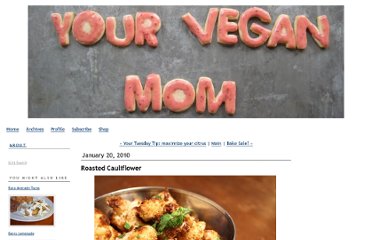 Vegetarian Irish Stew I can't believe how busy I've been lately. A huge work project came to fruition–finally!–so I'm hoping the craziness will calm down a bit. One of the things I hate about being so busy–aside from the lack of blogging time–is that I tend to get lazy in the kitchen.
Photo: The Conscious Cook You asked for it, so we're giving it to you -- one of the most delicious, decadent, can't-believe-this-is-actually-vegan vegan recipes we could find. Created by star vegan chef Tal Ronnen (the guy who helped Oprah dabble in a meat-free lifestyle ), this Pine Nut Gardein "Chicken" recipe is a hearty meat-free alternative. This dish uses Gardein "chicken," a great tasting and high-protein meat replacement that is a great transitional option for people new to vegetarian cuisine. You can find it in the frozen and fresh sections of your local grocery store.