Gifts
How to make a staple-free matchbook notepad. In an effort to use up the damaged & small surplus of 2010 calendars I have on-hand, I've been experimenting with ways to repurpose them.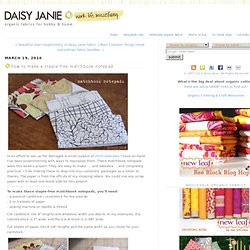 These matchbook notepads were this week's project. They are easy to make .... and adorable ... and completely practical. The Craft Junkie: Soda Pop Art. Anti-Boredom pocket kit. What I put in my Anti-Boredom kit may be different then what you would put.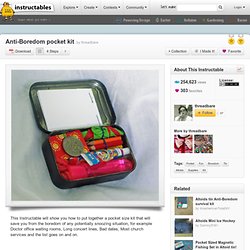 Here's what I gathered for mine (my kids helped). The tin is an Altoids tin that I painted Black. RANDOM ACTS OF KINDNESS KIT | Boom Boom Cards. Become a Card Carrying Member of the Revolution Change the world in four easy steps with these intentional act of kindness kits.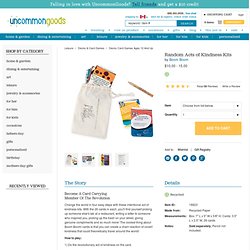 With the 26 cards in each, you'll find yourself picking up someone else's tab at a restaurant, writing a letter to someone who inspired you, picking up the trash on your street, giving genuine compliments and so much more! The coolest thing about Boom Boom! Design*Sponge » Blog Archive » diy project: valentine lightbulb.
I know a lot of people find valentine's day to be a commercialized, over-hyped, pressure-cooker of a holiday (um, take it easy with the chocolate aisles, drug stores). in my mind though, valentine's day is great because such little things can make huge statements on this romantic day. pretty much any act of kindness carries with it a bigger message of love: a note on the counter, an extra long hug, a favorite food in the fridge, etc. so with the "little gifts" concept in mind, i bring you this valentine's day light bulb. a subtle love note tucked inside a pretty glass bulb, this can hopefully be displayed year round, and have longer lasting power than a dozen roses (not that i'm knocking roses). the other awesome part of this project is that once you've hollowed out a light bulb, the possibilities are endless for future projects: mini terrarium?
Check. handmade snow globe? Check.. go crazy! Etched Portion Control Wine Glass. OK, confession: I'm on Weight-Watchers.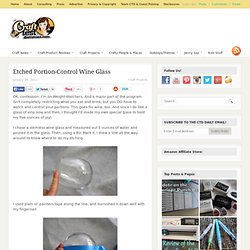 And a major part of the program isn't completely restricting what you eat and drink, but you DO have to watch and control your portions. This goes for wine, too. And since I do like a glass of vino now and then, I thought I'd made my own special glass to hold my five ounces of joy! I chose a stemless wine glass and measured out 5 ounces of water and poured it in the glass. Then, using a Bic Mark it, I drew a line all the way around to know where to do my etching.
137 inexpensive, handmade holiday gift ideas, Part 1. Why Christmas when we're in the throes of summer?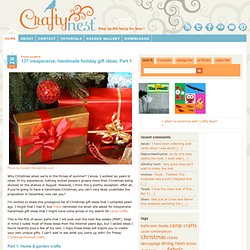 I know. I worked six years in retail. In my experience, nothing incited people's groans more than Christmas being stocked on the shelves in August. However, I think this a worthy exception. After all, if you're going to have a handmade Christmas, you can't very likely undertake the proposition in December, now can you? 36 Do It Yourself Gift Box Tutorials For Your Christmas Presents « PrintRadar - Scanning digital space.
Crafting MacGyver: Circular Logic. How to make gift bags from newspaper. When I bought something at a store recently, the clerk handed me my purchase in a bag made from a newspaper.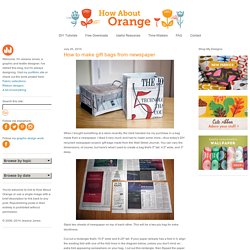 I liked it very much and had to make some more—thus today's DIY recycled newspaper project: gift bags made from the Wall Street Journal. You can vary the dimensions, of course, but here's what I used to create a bag that's 5" tall, 4.5" wide, and 3" deep. Stack two sheets of newspaper on top of each other.
Happybird's Crafting Haven: Make A Cute Little Bow With A Fork...Tutorial For You! I made this fork bow tutorial for you.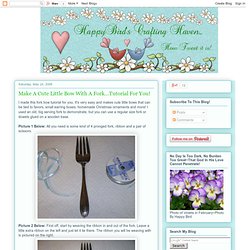 It's very easy and makes cute little bows that can be tied to favors, small earring boxes, homemade Christmas ornaments and more! I used an old, big serving fork to demonstrate, but you can use a regular size fork or dowels glued on a wooden base. Picture 1 Below: All you need is some kind of 4 pronged fork, ribbon and a pair of scissors. Picture 2 Below: First off, start by weaving the ribbon in and out of the fork. Make your own 6-pocket mini pocketbook and stay organized — insatiable need. I'm sure that many of you, like me, are on an eternal quest for organization.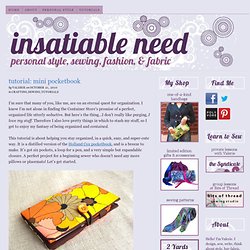 I know I'm not alone in finding the Container Store's promise of a perfect, organized life utterly seductive. But here's the thing…I don't really like purging, I love my stuff.
---