Fun to Look At
Banana Split Bites. Banana Split Bites ~ A classic ice cream dessert gets mini for some bite size fun.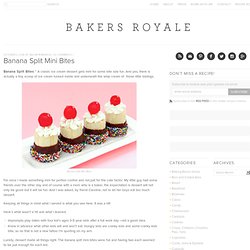 And yes, there is actually a tiny scoop of ice cream tucked inside and underneath the whip cream of those little darlings. Banana Split Mini Bites. St. Patrick's Day Rainbow Slice and Bake Cookie. St.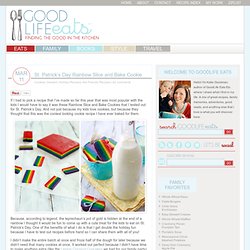 Patrick's Day Rainbow Slice and Bake Cookie Cookies, Dessert, Holiday Recipes, Kid Friendly Recipes | 82 comments. My I-thought-I-had-an-original-idea ice cream cone cupcake pan. Don't you hate it when you get all your ice cream cones filled with batter only to have them tip over and spill in the pan when you try to put them in the oven?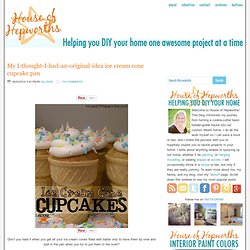 I decided to make a pan prototype to bake my cones in to stop the spills and mess! Yup, I made a prototype. And I was going to mass-produce it and sell it on HSN and become a billionaire, er, or at least a thousand-aire. Mum's the Word Cupcakes. Brownie Pops to Cheesecake Pops: Things on a Stick taste Better | Intimate Weddings - Small Wedding Blog. Posted on September 14, 2010 by Christina Why do some things taste better when they're on a stick?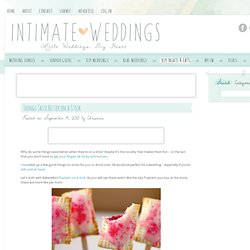 Maybe it's the novelty that makes them fun – or the fact that you don't have to get your fingers all sticky and buttery. I rounded up a few good things on sticks for you to drool over. All would be perfect for a wedding – especially if you're still a kid at heart. Let's start with Bakerella's Poptarts on a stick. Saucy's sprinkles (bloggedy blog blog): happy thanksgiving. More than a few readers suggested that Saucy try to make the infamous turkey cupcakes from What's Up, Cupcake for Thanksgiving.
Remember, it's Thanksgiving in Canada this weekend. Saucy decided to give them a whirl. They are, after all, super cute. Super very cute. Seriously... tiny turkeys on top of a cupcake? 20 Most Inventive Cupcakes Known To Man | KoldCast TV - News Blog. Chocolate Easter Surprise Eggs. These dyed Easter are real eggshells that have been coated on the inside with chocolate and stuffed with candy and a small surprise.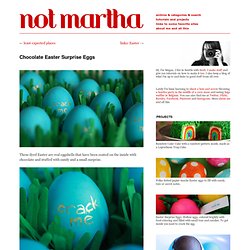 Everything I used to decorate the eggs is edible. I used jumbo sized eggs, though this wasn't necessary. I stuffed them with the smallest things I could find. What goes into making chocolate bowls. Leave it up to me to mess up every recipe in the world... but on the flipside, by experiencing everything that goes wrong, I end up learning the most.I had seen these bowls from Stephanie's Kitchen, and decided it was a fantastic idea for my food independent study. ingredients: chocolate, and balloons!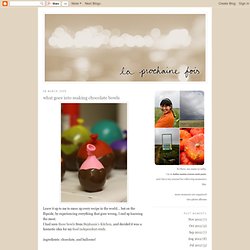 First, a giant bar of chocolate all the way from taiwan! How to make hard candy jewels | Chica and Jo. Jo and I have been doing lots of projects over the last month or so for Little Jo's birthday party, and I want to show you one of the projects I did for part of the party decor.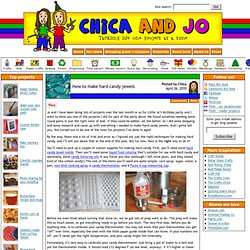 We found ourselves needing some round gems in just the right color of teal. If they could be edible, all the better. So I did some shopping and some research and came up with everything I needed to make hard candy jewels. And I gotta tell you, this turned out to be one of the most fun projects I've done in ages! Rice Krispie Treat Watermelon. I used the standard Rice Krispie Ceral Treat recipe.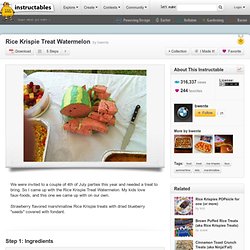 I had to double it to make mini watermelon. So buy 1 large box of cereal and 2 bags of strawberry marshmallows. You still need to make in two separate batches to make it easier to handle. Watermelon Filling 3 Tablespoons of butter 6 Cups of Rice Krispie Treat Cereal 1 10 oz. bag of Kraft Jet-Puffed Strawberry Marshmallows 1/4 Cup of dried blueberries. Rainbow Jello Recipe. June 22, 2010 When I was young, rainbow Jello would always be one of the offerings on the dessert table.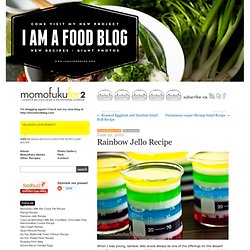 I used to peel the layers of Jello apart and eat them one by one, my favourite being cherry. I have a lot of fond memories of rainbow Jello, but like most things from my childhood, rainbow Jello slowly disappeared without much fanfare.
---