Chicken
Get flash to fully experience Pearltrees
Alright you guys, seriously, this orange chicken tastes exactly like the best orange chicken you've ever had at any restaurant.
There are so many different ways to make tacos but lime chicken tacos are some of the best. These tacos are a delicious and light meal, great for summertime. The flavors of lime and various seasonings blend perfectly with the chicken.
These homemade chicken nuggets had the right texture, flavor and consistency of a standard McDonald's Chicken McNugget. However, it still tasted leaner (healthier) probably because I trimmed all the fat off the chicken pieces. I used a mixture of chicken breast meat and thigh meat, hoping the thigh meat would add some extra richness, flavor and moistness after frying.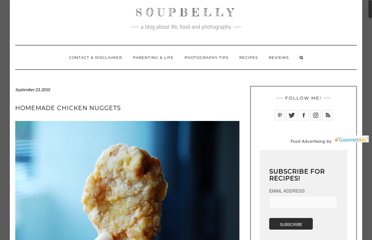 Yesterday as I stood in the kitchen trying to figure out what to make for dinner I wondered to myself, how do those people do it on those shows where they are given random ingredients and are suppose come up with something genius. I think I stood there for a solid 20 minutes looking in the cupboards and staring into the freezer hoping that I would be struck by some ingenious idea. Then I saw the oranges and it hit me "O-raang Shh-ikun"….that is orange chicken if you can't understand the accent.