Breakfast
Jamaican Banana Fritters - ThatsSoYummy.com. There's a thing in my house that when you have ripe ol bananas either you make banana bread or banana fritters.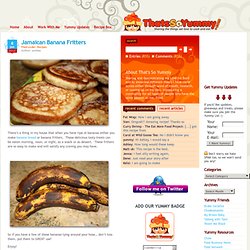 These delicious tasty treats can be eaten morning, noon, or night, as a snack or as dessert. These fritters are so easy to make and will satisfy any craving you may have. So if you have a few of these bananas lying around your hose… don't toss them, put them to GREAT use! Enjoy! Peel and mash the ripe bananas. Cake Batter Pancakes. I'm fairly convinced that the world would be a better place if more sprinkles were involved.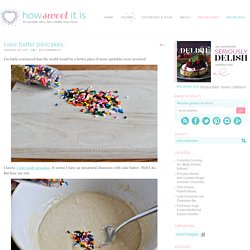 I know. I just made pancakes. It seems I have an unnatural obsession with cake batter. Well I do. 50 Pancakes and Waffles (1 - 10) : Recipes and Cooking. Chocolate French Toast with Panera Bread. I'm back (already?!)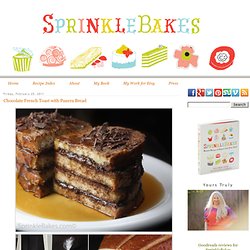 With another post for Panera Bread! I know, two posts in one day - try not to faint. It's a rare occurrence, but my schedule has been a little crazy lately and it just worked out as such. Whenever I'm out and about I like to stop by Panera Bread for a couple of artisan loaves; usually the Asiago Cheese and Three Seed Sour Dough. Bacon, Egg and Cheese Cups | Recipes for Kids. Breakfast pizza. My son's favorite game in the whole world is Let's Play With The Other Baby!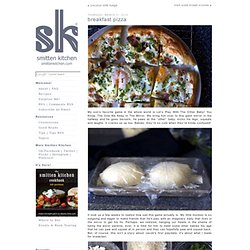 You Know, The One We Keep In The Mirror. We bring him over to this giant mirror in the hallway and he goes berserk, he paws at the "other" baby, kicks his legs, squeals and laughs. It cracks us up too. Babies: they're so cute when they're kinda confused! It took us a few weeks to realize how sad this game actually is. Big Red Kitchen: Cinnamon Roll Pancakes. The original and unique Cinnamon Roll Pancake recipe created by Robin Sue!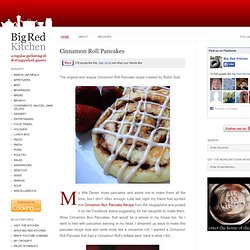 My little Deven loves pancakes and wants me to make them all the time, but I don't often enough. Late last night my friend had spotted this Cinnamon Bun Pancake Recipe from the blogisphere and posted it on her Facebook status suggesting for her daughter to make them. Wow, Cinnamon Bun Pancakes, that would be a winner in my house too. Cinnamon Bun Pancake Recipe. Sticky Lemon Rolls with Lemon Cream Cheese Glaze | Apartment Therapy The Kitchn. Have you ever wondered what cinnamon rolls would taste like, sans cinnamon?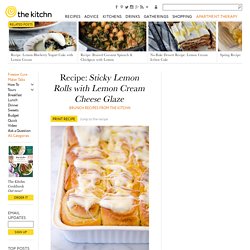 Why aren't there more recipes for sticky, gooey, and sweet breakfast rolls without cinnamon or caramel? There are so many other wonderful options! I was craving a buttery, flaky breakfast bun with the sweet, tangy, taste of lemon — so I made one up. These rolls are amazing, if I do say so myself! The first time I made them they were a smash hit, and they've continued to be so every time since. Baked-Potato Eggs.
---