Body
I started making bar soaps at home from scratch a few months ago and have become somewhat "obsessed" with soaps, so I finally decided to write about it. "What made you decide to make your own soap?" my friends and coworkers ask. It seems like a strange thing to do, especially in this day and age (and I live in Silicon Valley). Well at first I did it out of curiosity more than anything else. But after I started using my handmade soaps and read more about it, I discovered that they have more benefits than I realized.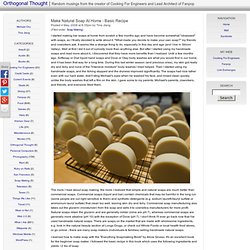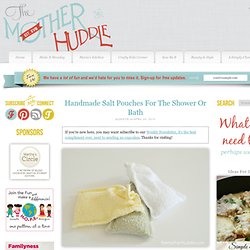 I love salt scrubs, especially this time of year when I want to slough off the dead skin from winter, and I equally love bath salts for the skin softening ingredients in them – but more often than not I find myself in the shower. These pouches are perfect for combining both bath salt and salt scrub into an exfoliating pouch I can bring into the shower , and they are simple to make. You can go a few different routes when making these so play around with your recipes and find your favorite.
Peppermint body powder is a cool, tingly way to stay refreshed. It smells amazing, feels silky smooth on skin, and does not contain talc. Since many people are choosing to avoid talc for health reasons, and due to the fact that talc cakes easily and wears off quickly, a corn starch based powder is always a hit. During the warm months I sprinkle on this powder all the time, and find that it keeps me dry and revitalized all day.