Style
// Balmain Pre Fall //
_College Style_
The Cover of the Style Manual Don't forget the Steamer Trunk and your Pipe Rack! Some of the guys in the "Joe College" fraternity next to mine actually did wear plaid pants!!! When I was a Freshman, I actually went to a football gameand carried a pennant I bought my date a Chrysanthemum What a dork! (below) Here is a group of all-white, non-ethnic College Men displaying their sweaters. From a historical perspective, I'm amazed that only one of them is smoking!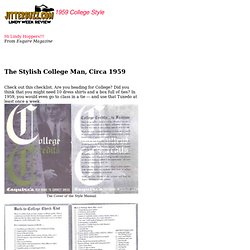 _ Lindy Hop and Swing Dance Week in Review_
Movie Hairstyles - Greta Garbo
The It Girls - Louise Brooks vs Clara Bow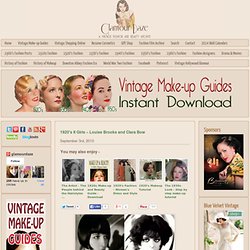 Louise Brooks and Clara Bow, possibly the two greatest female screen icons of 1920′s beauty style. Their individual beauty helped define the flapper look and the jazz age of the roaring twenties.This film celebrates them both. If you should ever need a definitive tutorial or just some tips on 1920′s, fashion, dress, bob hairstyles, clothing and the makeup look of the flapper, these two glamorous women and beauty icons epitomize it all . Sit back and be mesmerized. The 1920′s Make-up & Beauty Guide. To get the authentic 1920s woman's make-up look – visit Vintage Make-up Guides !
Vintage 1970s Love Story Cobalt and Caramel by RaleighVintage
Was $68.00 This dress has all the elements of mid-1970s day-time fashion: a slight reserve with hints of funky! Medium weight wool jersey in cobalt blue and caramel brown.Has the appearance of a sweater and skirt but is actually a dress.Top has contrasting decorative buttons down one sleeve and a contrasting braided tie belt.Skirt has great movement that is enhanced by a ruffled lining.Back zipper.Fully lined. Condition: excellentLabel: noneBest fits: M/L (see measurements)Circa: very late 1960s/1970sCondition: excellent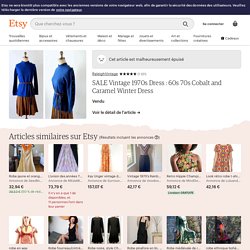 Style Secrets From The Countess Of Glamour
Advanced Style: Tziporah Salamon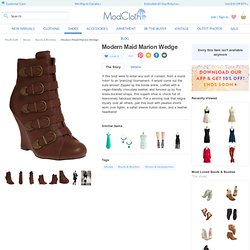 /productshots/0051/0838/8033dc01cf654a5552aed4603691df27.jpg?1285935685/productshots/0051/0852/85e1b0244c3d3403b84c49c3bbc5bf4a.jpg?1288121463/productshots/0051/0865/6348429c2fbc0f025b8cbe1e80d2f294.jpg?1285935686/productshots/0051/0879/b4136082e71318f00d419e700e706210.jpg?
Modern Maid Marion Wedge | Mod Retro Vintage Boots
/productshots/0062/7535/e06b27c00332d59d01c554dddbd0d157.jpg?1297099151/productshots/0062/7541/906d26177d5c977c042c3b163d470a31.jpg?1297099152/productshots/0062/7547/9e4f11cadff0cfc9bf557d8fde789160.jpg?1297099153/productshots/0062/7553/e3368959b47179ca1fabc8a27c556ed7.jpg?1297099153/productshots/0062/7559/9aa432beb0a695be2075aced23df8dee.jpg?
Front Row Fashion Wedge | Mod Retro Vintage Wedges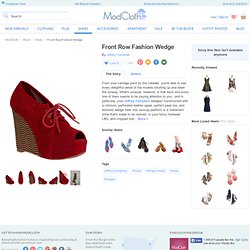 /productshots/0055/5065/282c0e1f279c297a9dcdeb2e01b6a24b.jpg?1292278486/productshots/0055/5071/1130aa52afaecd52cb95bc7f9ac0c9a7.jpg?1289921701/productshots/0055/5084/a8a3c5ca24886d579a59c0e748bc0a1d.jpg?1292278486/productshots/0055/5107/f6e322880c4f54adf1e1b3f7a2a744b8.jpg?1300891241
Sheen Queen Dress | Mod Retro Vintage Solid Dresses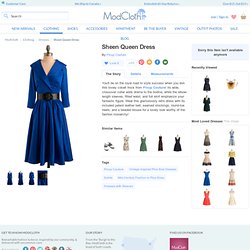 Mary Katrantzou | Gateway printed silk and cotton-blend dress 
Style Crush: Elizabeth Taylor: Lucky Right Now : luckymag.com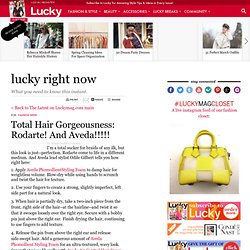 I'm a total sucker for braids of any ilk, but this look is just--perfection. Rodarte come to life in a different medium. And Aveda lead stylist Odile Gilbert tells you how right here: 1. Apply Aveda PhomollientStyling Foam to damp hair for weightless volume.
Total Hair Gorgeousness: Rodarte! And Aveda!!!!!: Lucky Right Now : luckymag.com
Friday, April 4, 2014 On the Street……Sixteenth St., New York Yes, it's still that cold in New York!