Style
// Balmain Pre Fall //
_College Style_
The Cover of the Style Manual Don't forget the Steamer Trunk and your Pipe Rack! Some of the guys in the "Joe College" fraternity next to mine actually did wear plaid pants!!! When I was a Freshman, I actually went to a football gameand carried a pennant I bought my date a Chrysanthemum What a dork! (below) Here is a group of all-white, non-ethnic College Men displaying their sweaters. From a historical perspective, I'm amazed that only one of them is smoking!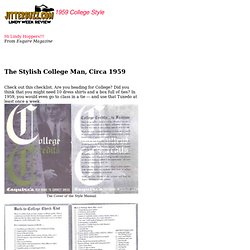 _ Lindy Hop and Swing Dance Week in Review_
Movie Hairstyles - Greta Garbo
The It Girls - Louise Brooks vs Clara Bow
Vintage 1970s Love Story Cobalt and Caramel by RaleighVintage
Style Secrets From The Countess Of Glamour
Advanced Style: Tziporah Salamon
Advanced Style Videos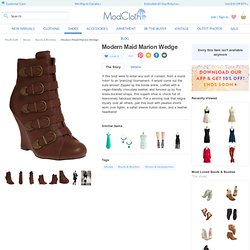 http://www.modcloth.com/store/ModCloth/Womens/Shoes/Boots/Modern-Maid-Marion-Wedge If this boot were to enter any sort of contest, from a round 'robin' to an 'prancing' tournament, it would come out the sure winner! Zipped up the inside ankle, crafted with a vegan-friendly chocolate leather, and fancied up by five brass-buckled straps, this superb shoe is chock full of fearsomely fabulous details. For a winning look that reigns royally over all others, pair this boot with pleated shorts worn over tights, a safari sleeve button down, and a feather headband!
Modern Maid Marion Wedge | Mod Retro Vintage Boots
http://www.modcloth.com/store/Modcloth/Womens/Shoes/Wedges/Front-Row-Fashion-Wedge From your vantage point by the catwalk, you're able to see every delightful detail of the models strutting up and down the runway. What's unusual, however, is that each and every one of them seems to be paying attention to you - and in particular, your Jeffrey Campbell wedges! Constructed with a crimson, perforated leather upper, perfect peep toe, and textured wedge heel, this lace-up platform is a statement shoe that's made to be noticed. In your fancy footwear, LBD, and cropped noir...
Front Row Fashion Wedge | Mod Retro Vintage Wedges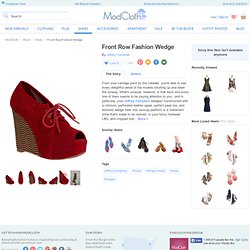 http://www.modcloth.com/store/ModCloth/Womens/Dresses/Sheen-Queen-Dress You'll be on the royal road to style success when you don this lovely cobalt frock from Pinup Couture ! Its wide, crossover collar adds drama to the bodice, while the elbow-length sleeves, fitted waist, and full skirt emphasize your fantastic figure. Wear this glamorously retro dress with its included patent leather belt, seamed stockings, round-toe heels, and a beaded blouse for a lovely look worthy of the fashion monarchy! Final Sale: This item cannot be returned or exchanged.
Sheen Queen Dress | Mod Retro Vintage Solid Dresses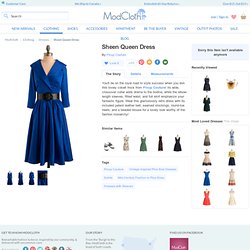 Mary Katrantzou | Gateway printed silk and cotton-blend dress 
Style Crush: Elizabeth Taylor: Lucky Right Now : luckymag.com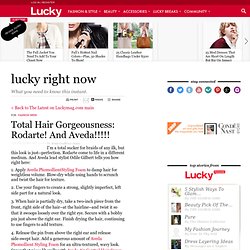 I'm a total sucker for braids of any ilk, but this look is just--perfection. Rodarte come to life in a different medium. And Aveda lead stylist Odile Gilbert tells you how right here: 1. Apply Aveda PhomollientStyling Foam to damp hair for weightless volume.
Total Hair Gorgeousness: Rodarte! And Aveda!!!!!: Lucky Right Now : luckymag.com