Books
The 50 Greatest Travel Books Of All Time. Daughters of the River Huong (9781935597315): Uyen Nicole Duong. SAS Survival Handbook, Revised Edition: For Any Climate, in Any Situation (9780061733192): John 'lofty' Wiseman. The Devil's Cup: A History of the World According to Coffee (9780345441492): Stewart Lee Allen. 360 Degrees Longitude: One Family's Journey Around the World (9781593501082): John Higham.
The Practical Nomad: How to Travel Around the World (9781566918282): Edward Hasbrouck. Work Your Way Around the World: A Fresh and Fully Up-to-Date Guide for the Modern Working Traveller (9781854584564): Susan Griffith. Lonely Planet The Travel Book (9781741792119): Lonely Planet. Vagabonding: An Uncommon Guide to the Art of Long-Term World Travel (9780812992182): Rolf Potts. How to Shit Around the World: The Art of Staying Clean and Healthy While Traveling (Travelers' Tales Guides) (9781932361322): Dr. Jane Wilson-Howarth, Kathleen Meyer.
Catfish and Mandala: A Two-Wheeled Voyage Through the Landscape and Memory of Vietnam (9780312267179): Andrew X. Pham. Best Books I have Read on my Travels, Part 1. The thirsty demand for book recommendations is part-and-parcel of long term travel.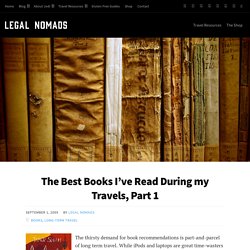 While iPods and laptops are great time-wasters on an endless bus journey, nothing satisfies like the pages of a good book. When I travel, I try and limit my reading to non-fiction. After all, to travel for travel itself is so fundamentally indulgent that the least I can do is try and learn as I go! Most of the books I buy or trade are therefore non-fiction, but I've been handed some great fiction to read during my journey and have included those as well. The Online Books Page. The Pale King (9780316074230): David Foster Wallace.
100 Best Novels « Modern Library.
---