Facebook
Nouveau buzz à destination des femmes sur Facebook - - Le Nouvel Observateur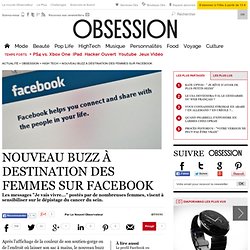 Après l'affichage de la couleur de son soutien-gorge ou de l'endroit où laisser son sac à mains, le nouveau buzz sur Facebook consiste à annoncer son départ pour vivre à l'étranger pendant plusieurs mois. Une opération marketing destinée aux femmes et qui vise à sensibiliser sur le dépistage du cancer du sein. Un e-mail appellerait ainsi à indiquer comme message sur son profil Facebook : "Je vais vivre en Colombie pendant 6 mois", "Je vais vivre à Miami pendant 9 mois", etc.
Username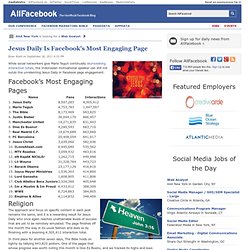 While social networkers give Mario Teguh continually skyrocketing interaction totals, the Indonesian motivational speaker can still not outdo the unrelenting Jesus Daily in Facebook page engagement. The approach and focus on specific content in each post remains the same, and it is a rewarding result for Jesus Daily who once again reaches unattainable levels of success that are yet to be remotely emulated. The page finishes off the month the way in its usual fashion and does so by finishing with a booming 4,305,412 interaction total. In third place for another seven days, The Bible holds on tightly by tallying 943,825 posters. One of the pages that whose progress was worth noting this month is Dios Es Bueno, and we tracked its highs and lows throughout.
Jesus Daily Is Facebook's Most Engaging Page
Facebook Fans | Web Traffic 2010
GET FACEBOOK FANS - BUY FACEBOOK FANS & LIKES - CHEAP FANS !
Maynards Canada
Recently I answered a question on Quora that I wanted to share as a post as well. "What is the best way to measure ROI for increasing the number of fans for a Facebook Page?" Since this question is focused primarily on success metrics tied to acquisition, I will forego discussions around engagement metrics and jump into 5 KPI's that I reference as part of an acquisition plan. 1 - % growth over a period of time | As I have mentioned before, on average the top 50 (US) Facebook pages growth rate is 5% per month. Using this as a baseline you can track & project your growth % and track the % increase as a core KPI. E.g.
5 Facebook Growth Success Metrics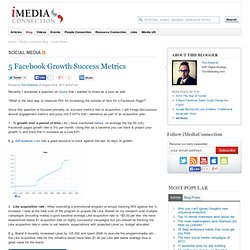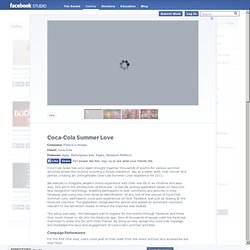 Coca-Cola Summer Love
Coca-Cola Summer Love Coca-Cola Israel has once again brought together thousands of youths for various summer activities across the country including a movie marathon, day at a water park, rock concert and parties, creating an unforgettable Coca-Cola Summer Love experience for 2011. We wanted to integrate people's online experience with their real life in an intuitive and easy way. This led to the introduction of FaceLook - a real life posting application based on Face.com face recognition technology, enabling participants to post comments and pictures to their Facebook wall using only their faces as identification. At any one of the venues of Coca-Cola Summer Love, participants could post experiences on their Facebook wall just by looking at the FaceLook machine.
‪Coca-Cola Israel, Summer Love FaceLook‬‏
klazxbcj Shared by
kfsoakvj Shared by scalino