Movies to see
The Top 50 Foreign Films of the Last Decade. It is quite clear that mainstream cinema no longer applies just to Hollywood blockbusters, or the odd British comedy.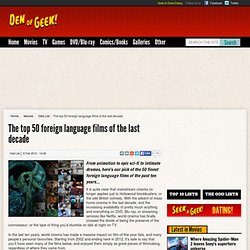 With the advent of mass home cinema in the last decade, and the increasing availability of pretty much anything and everything on DVD, Blu-ray, or streaming services like Netflix, world cinema has finally crossed the divide of being the preserve of the connoisseur, or the type of thing you'd stumble on late at night on TV. In the last ten years, world cinema has made a massive impact on film-of-the-year lists, and many people's personal favourites. 20 Great Movies On Netflix You Probably Haven't Seen « Taste Of Cinema – Movie Reviews and Classic Movie Lists. Netflix has become a power house these last few years and not too many can compete with what they offer.
Now more than ever Netflix is becoming stronger by signing deals with some big distributers and even having their own production company. One thing Netflix has always been good at is instantly streaming right onto your computer or TV some big name movies and even some hidden gems that you wouldn't necessarily know about. Here are 20 movies that you might have not heard of or known about, you should put them on your Instant Queue when you're done reading this list. Project Imagination. Stanley Kubrick's favorite films - My Criterion.
By Joshua Warren Created 10/27/12 Edit List I think Kubrick would have loved The Criterion Collection if he was still alive today and quite a lot of the films that have been cited as his favorites are in the collection.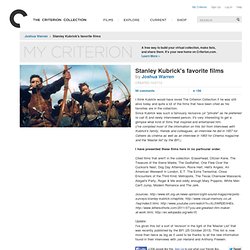 Top mind blowing movies you never saw - a list by sasharaskin. Year In Review: The 11 Best Short Films of 2011. Over the course of the year, curating the Short Film of the Day feature has given me a deep and affecting appreciation of the art form.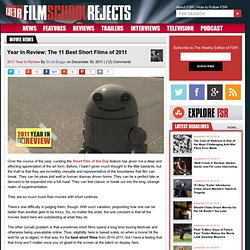 Before, I hadn't given much thought to the little bastards, but the truth is that they are incredibly versatile and representative of the boundaries that film can break. They can be jokes told well or human dramas driven home. They can be a perfect bite or demand to be expanded into a full meal. The 32 Greatest Unscripted Movie Scenes. 4 Sites to Find and Watch TV and Movies Online. Increasingly, content creators from NBC to Disney to Michael Moore are distributing their video online.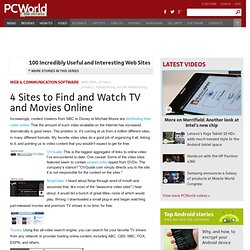 That the amount of such video available on the Internet has increased dramatically is good news. The problem is, it's coming at us from a million different sites, in many different formats. You Missed It: Most Unfairly Overlooked Movies Of The Decade. When people look back on the early years of the new millennium they'll remember it for movies like The Dark Knight and Lord of the Rings.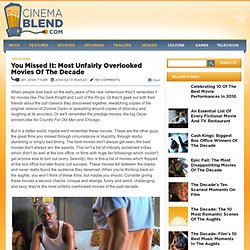 Or they'll geek out with their friends about the cult classics they discovered together, rewatching copies of the original version of Donnie Darko or spreading around copies of Idiocracy and laughing at its accuracy. Or we'll remember the prestige movies, the big Oscar winners like No Country For Old Men and Chicago. But in a better world, maybe we'd remember these movies. Amazing Underrated Obscure Bizarre Films PART 11 list. I really dig this IMDB plot summary, it paints a mysterious picture to get you interested while not giving away anything crucial, it's like a good trailer: A psychiatrist, Richard Burton, investigates the savage blinding of six horses with a metal spike in a stable in Hampshire, England.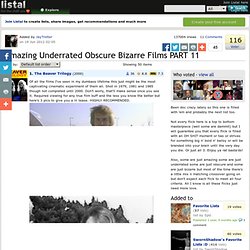 The atrocity was committed by an unassuming seventeen-year-old stable boy named Alan Strang, the only son of an opinionated but inwardly-timid father and a genteel, religious mother. As Dysart exposes the truths behind the boy's demons, he finds himself face-to-face with his own. Films for families: The top 50 movies to watch as a family. From the high-flying Mary Poppins to an animated singing mermaid, Time Out Kids ranks the 50 best films for families.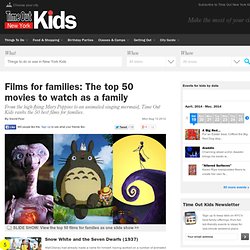 By David Fear Mon Aug 13 2012 Snow White and the Seven Dwarfs (1937) Walt Disney had already made a name for himself, having worked on a number of animated shorts (he actually had high hopes for a rodent character he'd just created, Mickey something or other), but in early 1934 he felt it was time to move into the big leagues. Disney announced that he and his team would be starting on their first feature-length film: an adaptation of the Brothers Grimm fairy tale about a princess and her septet of pint-size friends.
Year In Review: The 11 Best Short Films of 2011. The 50 Greatest Geek Movies. Martin Scorsese's Film School: The 85 Films You Need To See To Know Anything About Film. Interviewing Martin Scorsese is like taking a master class in film.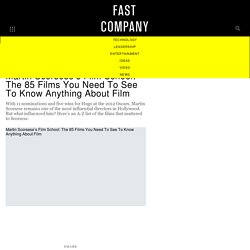 Fast Company's four-hour interview with the director for the December-January cover story was ostensibly about his career, and how he had been able to stay so creative through years of battling studios. But the Hugo director punctuated everything he said with references to movies: 85 of them, in fact, all listed below. Some of the movies he discussed (note: the descriptions for these are below in quotes, denoting his own words). Anime Moive - Watch Anime Movie Sub or Dub Free Online. Films de France - Top 100 - best French movies of 2000s. Top 100 Foreign Films - ForeignFilms.com. IMDB 250 on Netflix Instant. Empire Features. 25 Spectacular Movies You (Probably) Haven't Seen Pt. 2. Human Traffic Very unique comedy about the drug/club culture in the UK.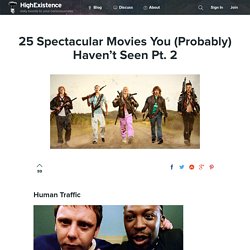 Five friends ponder society, drug use and their own lives as they go about their usual weekend of snorting, smoking, popping, dancing and sex. Ten Anime Films You Should See Before You Die. One of the most surprising, and gratifying, things that has happened since I started my blog, Tim Maughan Books, a year or so ago is the positive feedback I've had for the anime reviews—especially from people I know are far from being massive fanboys like myself. It's gratifying because its part of the reason I started writing them; to try and introduce the medium to people who had never really indulged in it all, at least not past perhaps watching Spirited Away with their kids. The problem is, once you've had your first taste, where do you go next? Type 'anime' into Google and the results are bewildering, and without a little bit of guidance and a quality filter finding something to watch can be a daunting task.
There's a lot of shit out there, plus a lot of stuff that isn't really meant for you…unless you're a ADHD stricken 12 year old emo-ninja-obsessed boy that refuses to eat anything except Pocky and instant Ramen. 9 Foreign Rip-Offs Cooler Than The Hollywood Originals. You think Batman's pretty cool, don't you? Probably couldn't be any cooler, right? Wrong. Step outside of America, and you find a Batman who guns down bad guys with a revolver, and has naked sex with the ladies he rescues. It's true, other countries have been working around the clock to improve our fictional heroes in every way. Here are 9 ripoffs that are better than the US originals, proving you can create something awesome no matter where you're from or how limited your budget is, as long as you don't give a shit about copyrights.
---