Funny shit
I Never Want to Stop Watching This Incredible Vine Compilation Video
The US standard railroad gauge is 4 feet, 8.5 inches. That's an exceedingly odd number.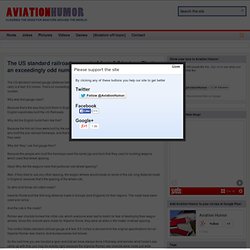 The US standard railroad gauge (distance between the rails) is 4 feet, 8.5 inches. That's an exceedingly odd number. Why was that gauge used? Because that's the way they built them in England, and English expatriates built the US Railroads.
Some of these are timeless classics of YouTube. Some of them you might never have seen before.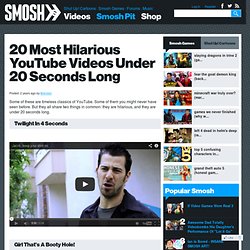 mosesweed.jpg (460×590)
If you can pronounce correctly every word in this poem, you will be speaking English better than 90% of the native English speakers in the world. After trying the verses, a Frenchman said he'd prefer six months of hard labour to reading six lines aloud. Dearest creature in creation, Study English pronunciation.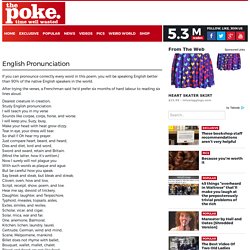 582658_10151224506321019_1008432838_n.jpg (585×720)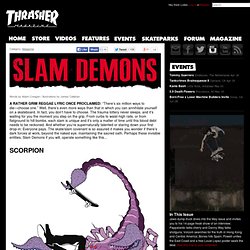 Slam Demons
Words by Adam Creagan | Illustrations by James Callahan A rather grim reggae lyric once proclaimed: "There's six million ways to die—choose one." Well, there's even more ways than that in which you can annihilate yourself on a skateboard.
FSM_and_Raptor_Jesus_thumb.jpg (504×682)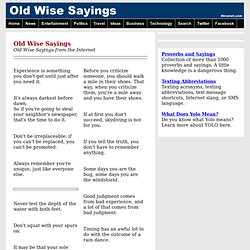 Old Wise Sayings
Before you criticize someone, you should walk a mile in their shoes. That way, when you criticize them, you're a mile away and you have their shoes. If at first you don't succeed, skydiving is not for you.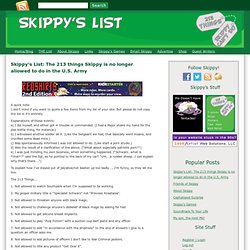 A quick note: I don't mind if you want to quote a few items from my list of your site. But please do not copy the list in it's entirety. Explanations of these events: a) I did myself, and either got in trouble or commended.
pd3211.jpg (640×979)
18 Accidentally Naughty Cartoons That Will Scar You for Life (PHOTOS)
_m3cxuoTLMp1qz6f9yo1_r1_500.jpg (499×403)
Skyrim Goes Live-Action With Freddie Wong In Today's Nugget From The Net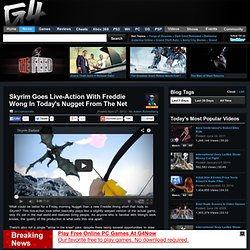 What could be better for a Friday morning Nugget than a new Freddie Wong short that nods to Skyrim ? This live-action love letter basically plays like a slightly warped version of the actual game, only it's set in the real world and features living people. As anyone who is familiar with Wong's work knows, the quality of the production is what sets this one apart. There's also not a single "arrow in the knee" joke, despite there being several opportunities to draw from that exceedingly empty well. For that alone, this video is worth your time.
Purchase Complete!
What is the most offensive joke ever? Here are twenty answers to that question along with a little something extra at the end, in my list of the 20 funniest ever offensive jokes: (If you have ever been upset or offended by humor of any kind please do not read any further.
The Most Offensive Jokes Ever | Funny Lists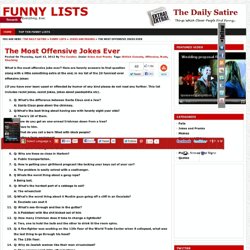 P.S. This is my favorite memo ever
(If you're easily offended, please don't read the following memo. Thanks.) Prior to the release of South Park: Bigger, Longer & Uncut in 1999, the movie's creators, Matt Stone and Trey Parker , were asked repeatedly by the MPAA to alter the film in order for it to gain an R rating rather than an NC-17. Below is a now-legendary memo sent by Stone to the MPAA, in response to such a request.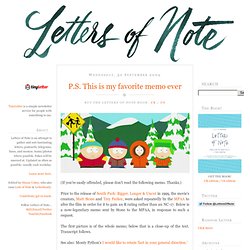 Stereotypes
Beavis
ME DUSA!
Ninja Skills
Old People are Badass
Death Metal Donkey
Can Men and Women be Friends Survey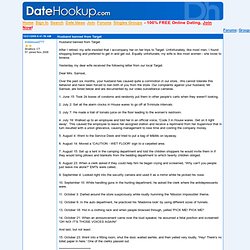 Husband banned from Target After I retired, my wife insisted that I accompany her on her trips to Target. Unfortunately, like most men, I found shopping boring and preferred to get in and get out. Equally unfortunate, my wife is like most women - she loves to browse. Yesterday my dear wife received the following letter from our local Target. Dear Mrs.
Not a single melon was given that day
Sad Batman is Sad