Screen Sharing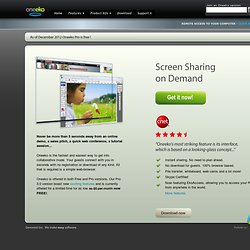 Oneeko - Screen Sharing on Demand Home page
Never be more than 5 seconds away from an online demo, a sales pitch, a quick web conference, a tutorial session... Oneeko is the fastest and easiest way to get into collaborative mode. Your guests connect with you in seconds with no registration or download of any kind.
Free Screen Sharing and Remote Access Solutions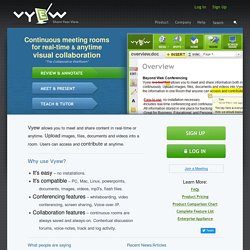 Vyew allows you to meet and share content in real-time or anytime. Upload images, files, documents and videos into a room. Users can access and contribute at anytime. Why use Vyew? It's easy – no installations. It's compatible – PC, Mac, Linux, powerpoints, documents, images, videos, mp3's, flash files.
SharedView | Microsoft Connect
Instant Screen Sharing & Live Help Co Browsing by LiveLOOK