OfflinePhotoEditors
Free image photo editor, GIF animation, digital scrapbooking software. SoftColor - Image Editing Automation with SoftColor Software. Paint.NET - Free Software for Digital Photo Editing. Paint.Net Tuts/Tips/Tricks. Photoscape 3.5. Photoscape is a fun and easy photo editing software that enables you to fix and enhance photos.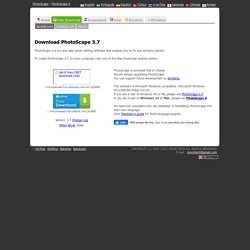 To install Photoscape 3.6.5 on your computer, click one of the Free Download buttons below. :: Free Download from brothersoft.com (20.3MB) :: Free Download from download.cnet.com (20.3MB) Evan's Freeware Site. Image Editor Update January 14, 2013: This program has been discontinued.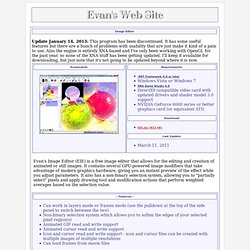 It has some useful features but there are a bunch of problems with usability that are just make it kind of a pain to use. Also the engine is entirely XNA-based and I've only been working with OpenGL for the past year, so none of the XNA stuff has been getting updated. I'll keep it available for downloading, but just note that it's not going to be updated beyond where it is now. XnView Software - Free graphic and photo viewer, converter, organizer.
Free Image Editor. For novices, editing images can be a daunting task.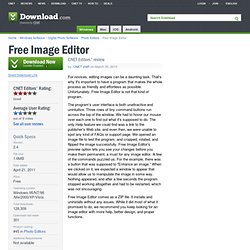 That's why it's important to have a program that makes the whole process as friendly and effortless as possible. Unfortunately, Free Image Editor is not that kind of program. The program's user interface is both unattractive and unintuitive. Three rows of tiny command buttons run across the top of the window. We had to hover our mouse over each one to find out what it's supposed to do. Free Photo Editing Software (Photo Editor) Download.
Photoscape is a fun and easy photo editing software that enables you to fix and enhance photos.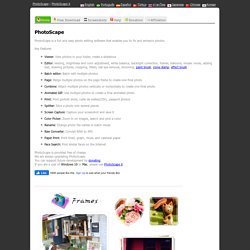 Key Features. Phantasmagoria » Home. Home Thanks for showing interest in Phantasmagoria!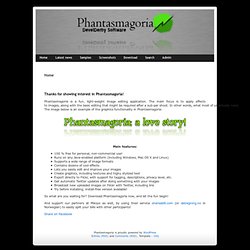 Phantasmagoria is a fun, light-weight image editing application. Krita - Open Source Digital Painting and Drawing. Pinta: Painting Made Simple - Pinta. Acorn- Mac image editor, Acorn is a Mac OS X 10.8 & 10.9 picture and image editor.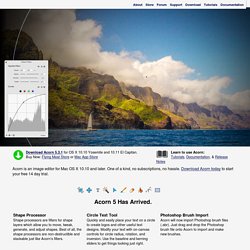 Download Acorn today to start your free 14 day trial. Everyone needs to edit photos at some point, but not everyone has the time to learn complicated super pricey photo editing software. Picasa. Free Photo Editor, Free Image Editor, Photo Editing Software, Image Editing Software and Free Photo Tools. Seashore. Seashore is an open source image editor for Mac OS X's Cocoa framework.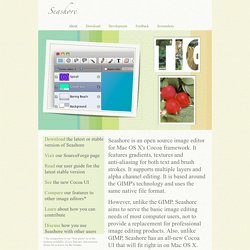 It features gradients, textures and anti-aliasing for both text and brush strokes. It supports multiple layers and alpha channel editing. It is based around the GIMP's technology and uses the same native file format. However, unlike the GIMP, Seashore aims to serve the basic image editing needs of most computer users, not to provide a replacement for professional image editing products. Pixia and Phierha. Pixia mascot designed by ASAMI.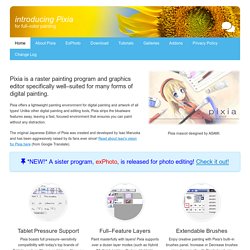 This website is to introduce graphic software, Pixia. The original Japanese Edition of Pixia was created and developed by the author, Isao Maruoka, but has also been aggressively raised by its fans, which makes this software quite unique and different from other tools. PaintStar. How to download with Softonic downloader?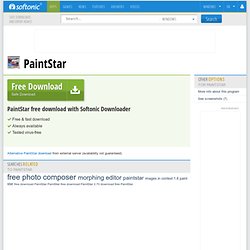 1- Click on Run 2- Run file If you choose save option Execute the file from your download default folder What is Softonic Downloader? Is a free tool without registration that ensures fast and secure downloads from Softonic programs, and ensures that you always work the download link. Guaranteed download, no more broken links. Speeds up download Garantee Softonic.More than 30 antivirus engines used. MyPaint. Organize all your media, edit and enhance Photos, Images and Videos with ease and STOIK Imagic - Stoik.com. View, organise and customize photos, edit still pics and videos with ease.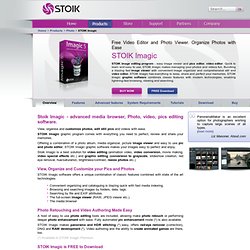 STOIK Imagic graphic program comes with everything you need to perfect, review and share your memories. Offering a combination of a photo album, media organizer, picture image viewer and easy to use pic and photo editor, STOIK Imagic graphic software makes your images easy to perfect and enjoy. Stoik Imagic is a best solution for video editing (animation video, video conversion, movie making, video special effects etc.) and graphic editing (conversion to grayscale, slideshow creation, red eye removal, hue/saturarion, brightness/contrast, resize photos etc.) Photobie: GIMP.
---