Urban Gardening
Inside Urban Green. National Arboretum - USDA Plant Hardiness Zone Map. Monday, April 14, 2014 Back to the Arboretum Home Page Arboretum Information || Events & Education || Gardens & Horticulture || Research ActivitiesNew Plant Introductions || Support the Arboretum || Comments Last Updated March 2, 2012 9:30 AM URL = narj.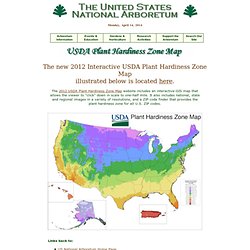 Harvest to Table | Garden Tips | Recipes | Guide. Life on the Balcony — Gardening Tips for Apartment and Condo Dwellers. How to Turn a Pallet into a Garden. Good news and bad news.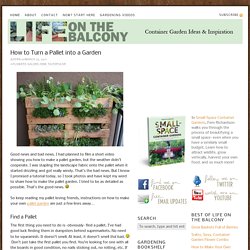 I had planned to film a short video showing you how to make a pallet garden, but the weather didn't cooperate. I was stapling the landscape fabric onto the pallet when it started drizzling and got really windy. That's the bad news. But I know I promised a tutorial today, so I took photos and have kept my word to share how to make the pallet garden. I tried to be as detailed as possible. Making Herb and Vegetable Containers - Successful Container Gardens. Vegetable gardeners in urban areas are faced with lots of problems such as lack of space, soils contaminated with heavy metals such as lead and arsenic, shade from trees and buildings, and soil-borne diseases such as fusarium, pythium, rhizoctonia, and phytophthora.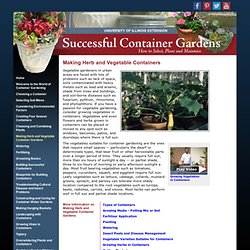 If you have a passion for vegetable gardening, consider growing vegetables in containers. Vegetables and even flowers and herbs grown in containers can be placed or moved to any spot such as windows, balconies, patios, and doorsteps where there is full sun. The vegetables suitable for container gardening are the ones that require small spaces -- particularly the dwarf or determinate types, that bear fruit or other harvestable parts over a longer period of time.
Urban Garden Solutions Blog.
---