Sites for Science Research
www.sigmaaldrich.com/etc/medialib/docs/Sigma/Formulation/t3285for.Par.0001.File.tmp/t3285for.pdf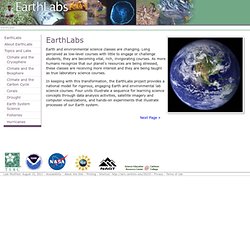 EarthLabs
Earth and environmental science classes are changing. Long perceived as low-level courses with little to engage or challenge students, they are becoming vital, rich, invigorating courses. As more humans recognize that our planet's resources are being stressed, these classes are receiving more interest and they are being taught as true laboratory science courses. In keeping with this transformation, the EarthLabs project provides a national model for rigorous, engaging Earth and environmental lab science courses. Four units illustrate a sequence for learning science concepts through data analysis activities, satellite imagery and computer visualizations, and hands-on experiments that illustrate processes of our Earth system.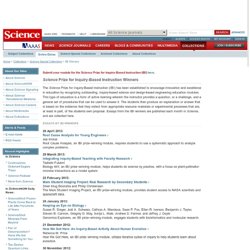 Science/AAAS | Collections: Science Special Collections: IBI Winners
Submit your module for the Science Prize for Inquiry-Based Instruction (IBI) here . The Science Prize for Inquiry-Based Instruction (IBI) has been established to encourage innovation and excellence in education by recognizing outstanding, inquiry-based science and design-based engineering education modules. This type of education is a form of active learning wherein the instructor provides a question, or a challenge, and a general set of procedures that can be used to answer it. The students then produce an explanation or answer that is based on the evidence that they collect from appropriate resource materials or experimental processes that are, at least in part, of the students own proposal. Essays from the IBI winners are published each month in Science , and are collected here. 26 April 2013: Root Cause Analysis for Young Engineers
Science in the Classroom
Global Mapper
High-Adventure Science | The Concord Consortium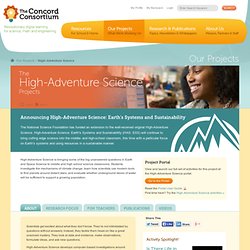 Click on any box to learn more about the research and development activities for High-Adventure Science. Check out the publications tab to read more about the High-Adventure Science curricula and research. High-Adventure Science Funded High-Adventure Science: (NSF DRL-0929774, 9/15/09 – 8/31/12, PI: Pallant, $695,075) The goal of High-Adventure Science is to bring the excitement of frontier science into the classroom by allowing students to explore pressing unanswered questions in Earth and Space Science that scientists around the world are currently investigating.
EarthLabs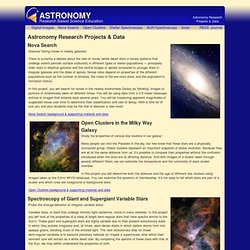 Nova Search Discover flaring novae in nearby galaxies! There is currently a debate about the rate of novae (white dwarf stars in binary systems that undergo violent periodic surface outbursts) in different types of stellar populations — principally older stars in elliptical galaxies and the central bulges of spirals compared to younger stars in irregular galaxies and the disks of spirals. Novae rates depend on properties of the different populations such as the number of binaries, the mass of the pre-nova stars, and the population's formation history. In this project, you will search for novae in the nearby Andromeda Galaxy by "blinking" images of portions of Andromeda taken at different times. You will be using data from a 0.9 meter telescope archive of images that extends back several years.
Astronomy Research Projects & Data - Astronomy Research Based Science Education at the National Optical Astronomy Observatory
Include the original publication information: Author's last name, First and Second Initial. (Year). Article title . Journal title, volume (issue number, if not continuously paginated), page numbers .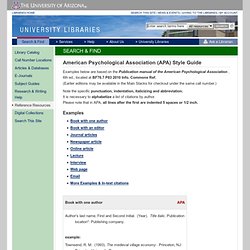 American Psychological Association (APA) Style Guide
The following is a list of cities by latitude . Both the latitude and longitude are shown for all cities and sorted by latitude started from the North Pole down to the South Pole .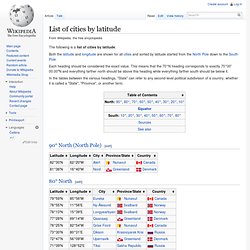 List of cities by latitude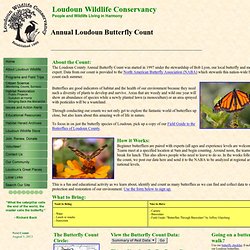 Butterflies are good indicators of habitat and the health of our environment because they need such a diversity of plants to develop and survive. Areas that are weedy and wild one year will show an abundance of species while a newly planted lawn (a monoculture) or an area sprayed with pesticides will be a wasteland. Through conducting our counts we not only get to explore the fantastic world of butterflies up close, but also learn about this amazing web of life in nature.
Loudoun Butterfly Count
Plot Digitizer
Earth Exploration Toolbook
Awarded Science Magazine's Science Prize for Online Resources in Education (SPORE), September 30, 2011 AAAS Press Release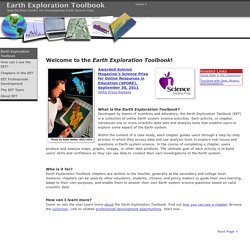 Weather History & Data Archive
County Mapping GIS