Sites for Science Research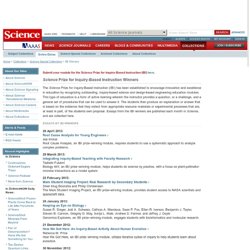 Science/AAAS | Collections: Science Special Collections: IBI Winners
Submit your module for the Science Prize for Inquiry-Based Instruction (IBI) here . The Science Prize for Inquiry-Based Instruction (IBI) has been established to encourage innovation and excellence in education by recognizing outstanding, inquiry-based science and design-based engineering education modules. This type of education is a form of active learning wherein the instructor provides a question, or a challenge, and a general set of procedures that can be used to answer it. The students then produce an explanation or answer that is based on the evidence that they collect from appropriate resource materials or experimental processes that are, at least in part, of the students own proposal. Essays from the IBI winners are published each month in Science , and are collected here. 26 April 2013: Root Cause Analysis for Young Engineers
Science in the Classroom
High-Adventure Science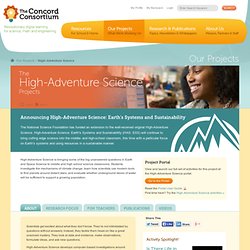 Click on any box to learn more about the research and development activities for High-Adventure Science. Check out the publications tab to read more about the High-Adventure Science curricula and research. High-Adventure Science Funded High-Adventure Science: (NSF DRL-0929774, 9/15/09 – 8/31/12, PI: Pallant, $695,075) The goal of High-Adventure Science is to bring the excitement of frontier science into the classroom by allowing students to explore pressing unanswered questions in Earth and Space Science that scientists around the world are currently investigating.
Include the original publication information: Author's last name, First and Second Initial. (Year). Article title. Journal title, volume (issue number, if not continuously paginated), page numbers.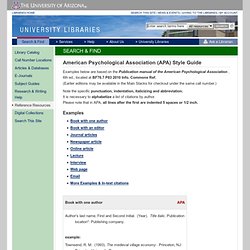 American Psychological Association (APA) Style Guide
The following is a list of cities by latitude. Both the latitude and longitude are shown for all cities and sorted by latitude started from the North Pole down to the South Pole. Each heading should be considered the exact value. This means that the 70°N heading corresponds to exactly 70°00′00.00″N and everything farther north should be above this heading while everything farther south should be below it. In the tables between the various headings, "State" can refer to any second-level political subdivision of a country, whether it is called a "State", "Province", or another term. 90° North (North Pole)[edit]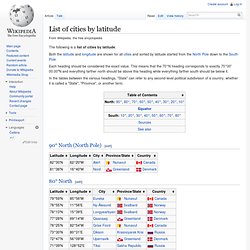 List of cities by latitude
Weather History & Data Archive
County Mapping GIS
Welcome to WebLogis Click OK to acknowledge the following: Every reasonable effort has been made to ensure the accuracy of these data. Loudoun County does not assume any liability arising from the use of these data. These data are provided without warranty of any kind, either expressed or implied, including, but not limited to, the implied warranties of merchantability and fitness for a particular service.