Search marketing
Pay Per Click versus SEO – Arch Enemies or Kissing Cousins? Despite what the title may first imply (and many of those who know me think), It does make me laugh a bit when I see someone paying for PPC for phrases that they could easily do well in organic search results for – with just a bit of SEO work.
And it makes me cry when the site owner is someone I know and that I have given free SEO advice to! I do not believe that Pay Per Click advertising is directly opposed to using Search Engine Optimization. So why do site owners pay out for PPC advertising month after month when they could spend a portion of that amount for professional SEO and probably be able to maintain the good organic results themselves at no or very little ongoing cost? 1. Fear or Friendship.
SEO : Va-t-on arrêter de référencer naturellement les sites Inte. SEO : Va-t-on arrêter de référencer naturellement les sites Internet ?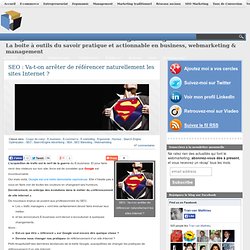 L'acquisition de trafic est le nerf de la guerre du E-business. Et pour faire venir des visiteurs sur son site, force est de constater que Google est incontournable. Oui mais voilà, Google est une belle demoiselle capricieuse. Powerpoint – Comment écrire pour le web en 2009 ? | Le Marketing. Le blog de Camille Jourdain "Du marketing sur le web… et sur les médias sociaux.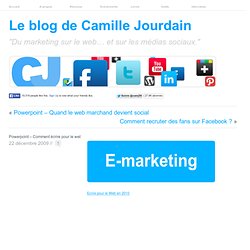 " « Powerpoint – Quand le web marchand devient social Comment recruter des fans sur Facebook ? » Powerpoint – Comment écrire pour le web en 2009 ? Le SEO expliqué en images…
Principles Of Effective Search In E-Commerce Design - Smashing M. Advertisement While product findability is a key factor of success in e-commerce, it is predominantly enabled by simple search alone.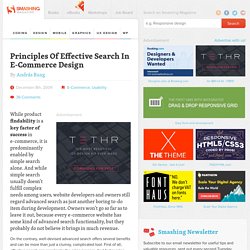 And while simple search usually doesn't fulfill complex needs among users, website developers and owners still regard advanced search as just another boring to-do item during development. Owners won't go so far as to leave it out, because every e-commerce website has some kind of advanced search functionality, but they probably do not believe it brings in much revenue. On the contrary, well-devised advanced search offers several benefits and can be more than just a clumsy, complicated tool. Yahoo! Search Academy sur Flickr : partage de photos ! Yahoo Search Academy : des statistiques sur l'usage des moteurs. L'enquête Yahoo Search Academy menée en février dernier apporte des données intéressantes sur les usages et la perception des moteurs de recherche par les internautes.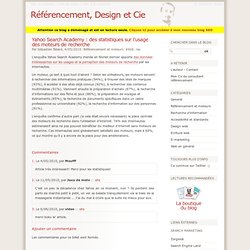 Un moteur, ça sert à quoi tout d'abord ? Selon les utilisateurs, les moteurs servent à rechercher des informations pratiques (94%), à trouver des sites de marques (93%), à accéder à des sites déjà connus (92%), à rechercher des contenus multimédias (91%). Viennent ensuite la préparation d'achats (87%), la recherche d'informations sur des films et jeux (86%), la préparation de voyages et évènements (85%), la recherche de documents spécifiques dans un cadre professionnel ou universitaire (82%), la recherche d'information sur des personnes (81%). L'enquête confirme d'autre part (si cela était encore nécessaire) la place centrale des moteurs de recherche dans l'utilisation d'internet. 74% des internautes estimeraient ainsi ne pas pouvoir bénéficier du meilleur d'internet sans moteurs de recherche.
Google propose des pages similaires. Abondance > Actualités > Google propose des pages similaires Google a annoncé hier une nouvelle fonctionnalité dans ses pages de résultats avec, sur certaines requêtes, la proposition en bas de page, de sites similaires à ceux proposés dans la page de résultats.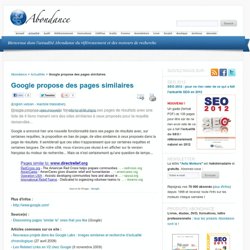 Il semblerait que ces sites n'apparaissent que sur certaines requêtes et certaines langues. De notre côté, nous n'avons pas réussi à en afficher sur la version française du moteur de recherche... Mais ce n'est certainement qu'une question de temps... Mayday, une mise à  jour de Google pour la Longue Traîne - Actu. Abondance > Actualités > Mayday, une mise à jour de Google pour la Longue Traîne De passage à paris, Matt Cutts, porte-parole SEO de Google, a confirmé une mise à jour récente de l'algorithme de pertinence du moteur de recherche, baptisée Mayday par les webmasters.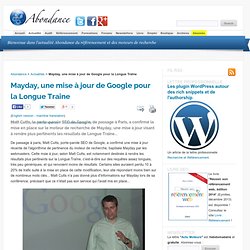 Cette msie à jour, selon Matt Cutts, est notamment destinée à rendre les résultats plus pertinents sur la Longue Traîne, c'est-à-dire sur des requêtes assez longues, très peu génériques, et qui renvoient moins de résultats.
---