Anc
www.acoustics.asn.au/conference_proceedings/ICA2010/cdrom-ICA2010/papers/p513.pdf
diec.unizar.es/intranet/articulos/uploads/MARDIH2003.pdf
pdf/1003.1509.pdf
www.vtt.fi/inf/pdf/science/2012/S5.pdf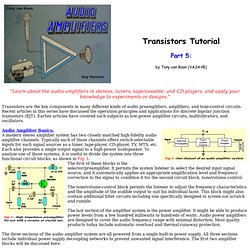 Transistor tutorial Audio Amplifiers, Part 5
Transistors Tutorial Part 5: by Tony van Roon (VA3AVR) "Learn about the audio amplifiers in stereos, tuners, tape/cassette, and CD players, and apply your knowledge to experiments or designs."
Quote: The electronics in the Bose headphones will be optimised for those headphones, drivers, mic placement etc. Just sticking them in another pair of headphones will not yield good results. The electronics have to be specifically tuned to the headset to achieve anything as good as the Bose system (the noise cancelling bit). I beg to differ.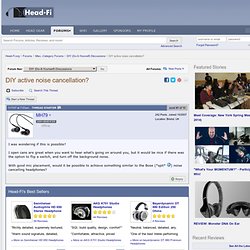 DIY active noise cancellation?
The AS3410/30 combine a high quality (0.1% THD, >100dB SNR), true ground, audio headphone amplifier with all the necessary circuitry to enable superior performance Active Noise Cancellation, all at very low power consumption, specifically targeting Accessories. The AS3410 is ideally suited for feed-forward topology, whereas AS3430 is better suited for feedback topology. The speakers can be configured in single ended mode (2x 34mW @1.5V, 16Ω) or Bridge Tied Load (1x 109mW @1.5V, 16Ω) and the line-in gain is adjustable to allow for locally controlled volume setting. The device contains an OTP-ROM to store calibration settings for the noise cancelling microphones, removing the need for the manually trimmed pots typically used. The OTP can also be used to store device configuration settings, allowing flexibility and differentiation for a broad end-product portfolio.
AS3430 - Receive Path Active Noise Cancelling solutions for Feedback topology