General coverage, criticism, and issues
Facebook boss changes privacy settings. Facebook founder Mark Zuckerberg has changed the privacy settings on his personal page to open it up to friends of friends.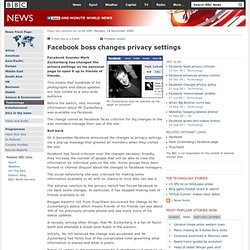 This means that hundreds of his photographs and status updates are now visible to a very wide audience. Before the switch, only minimal information about Mr Zuckerberg was available via Facebook. The change comes as Facebook faces criticism for big changes to the way members manage their use of the site. Roll back On 9 December Facebook announced the changes to privacy settings via a pop-up message that greeted all members when they visited the site. How Facebook Is Making Friending Obsolete. Who Knows Who Your Facebook Friends Are? | Electronic Frontier F. As you may have heard by now, one of the biggest problems with Facebook's recent privacy overhaul was that it removed users' ability to hide their friend lists from the world.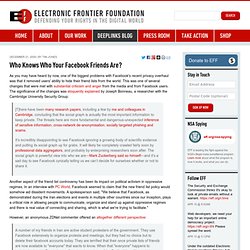 This was one of several changes that were met with substantial criticism and anger from the media and from Facebook users. The significance of the changes was eloquently explained by Joseph Bonneau, a researcher with the Cambridge University Security Group: Facebook: pis…, er, urinating in ever. Dot.life: Facebook: Are you a broadcaster or a whisperer? The Day Has Come: Facebook Pushes People to Go Public. Facebook announced this morning that its 350 million users will be prompted to make their status messages and shared content publicly visible to the world at large and search engines.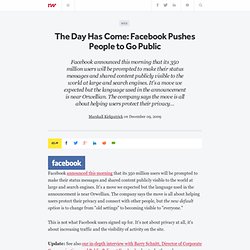 It's a move we expected but the language used in the announcement is near Orwellian. The company says the move is all about helping users protect their privacy and connect with other people, but the new default option is to change from "old settings" to becoming visible to "everyone. " This is not what Facebook users signed up for. It's not about privacy at all, it's about increasing traffic and the visibility of activity on the site.
Update: See also our in-depth interview with Barry Schnitt, Director of Corporate Communications and Public Policy at Facebook, about why these changes were made. Now Is It Facebook's Microsoft Moment? I came close to killing my Facebook account this week.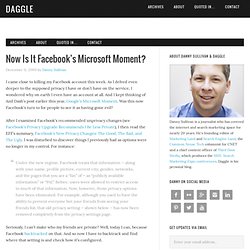 As I delved even deeper to the supposed privacy I have or don't have on the service, I wondered why on earth I even have an account at all. And I kept thinking of Anil Dash's post earlier this year, Google's Microsoft Moment. Was this now Facebook's turn to for people to see it as having gone evil? After I examined Facebook's recommended unprivacy changes (see Facebook's Privacy Upgrade Recommends I Be Less Private), I then read the EFF's summary, Facebook's New Privacy Changes: The Good, The Bad, and The Ugly. Facebook tosses graph pri. December 11th, 2009 at 01:41 UTC by Joseph Bonneau Facebook has been rolling out new privacy settings in the past 24 hours along with a "privacy transition" tool that is supposed to help users update their settings.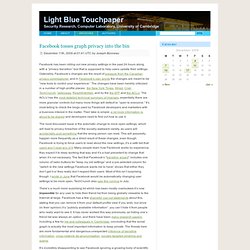 Ostensibly, Facebook's changes are the result of pressure from the Canadian privacy commissioner, and in Facebook's own words the changes are meant to be "new tools to control your experience." Why Facebook Changed Its Privacy Strategy. We reported yesterday that Facebook is aiming to get people to be more public on the site and that anyone who hasn't changed their privacy settings will now see it "recommended" that their status updates, photos etc. be exposed to the whole web.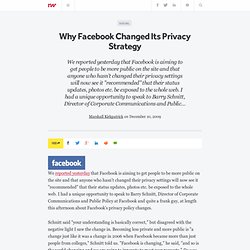 I had a unique opportunity to speak to Barry Schnitt, Director of Corporate Communications and Public Policy at Facebook and quite a frank guy, at length this afternoon about Facebook's privacy policy changes. Schnitt said "your understanding is basically correct," but disagreed with the negative light I saw the change in. Becoming less private and more public is "a change just like it was a change in 2006 when Facebook became more than just people from colleges," Schnitt told us. "Facebook is changing," he said, "and so is the world changing and we are going to innovate to meet user requests. " Do you buy that? Facebook Suggests You Lie, Break Its Own Terms Of Service To Kee. Here's a new one.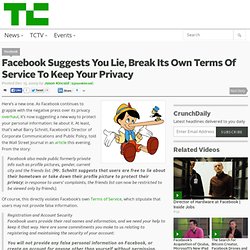 As Facebook continues to grapple with the negative press over its privacy overhaul, it's now suggesting a new way to protect your personal information: lie about it. At least, that's what Barry Schnitt, Facebook's Director of Corporate Communications and Public Policy, told the Wall Street Journal in an article this evening. From the story:
---