Copyright and piracy
I have been researching new business models for artists working in the low end of the long tail. How can one make a living in a micro-niche? Is it even possible, particularly in this realm of no-cost copies? I proposed the idea of artists directly cultivating 1000 True Fans , which I wrote up in a previous post.
The Reality of Depending on True Fans
The Case Against 1000 True Fans
[Translations: Japanese , Portuguese ] My 1000 True Fans post provoked much discussion on other blogs. One blogger mentioned in passing that Brian Austin Whitney had suggested a very similar idea a few years ago.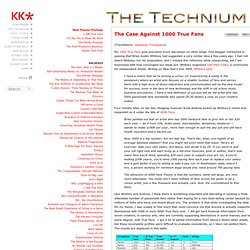 Debunking the myths used to fight file-sharing. There are many good articles about this in English (many which I quote or link to here, just look for them in the French text). Here are the myths: piracy is theft a downloaded file is a lost sale artists are people who sell CDs
Pirater n'est pas voler, en sept mythes — Climb to the Stars