'Spying' on citizens?
F.B.I. Giving Agents New Powers in Revised Manual. ACLU report on profiling (PDF) A.C.L.U. Releases F.B.I. Documents on Ethnic and Religious Groups. When Did It Become Legal to Spy on Americans? - Emily Berman - Politics. Congress and the public should demand more oversight of changing FBI rules on domestic surveillance It just got easier for the federal government to collect information about innocent Americans -- and those Americans have had surprisingly little say in the matter.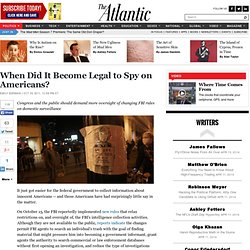 On October 15, the FBI reportedly implemented new rules that relax restrictions on, and oversight of, the FBI's intelligence collection activities.
---