Online
News and tidbits about interactive journalism. Oct 29
25 ways to use Facebook, Twitter & Storify to improve political coverage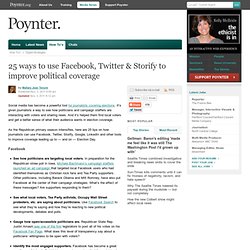 Social media has become a powerful tool for journalists covering elections. It's given journalists a way to see how politicians and campaign staffers are interacting with voters and sharing news.
The financial woes of Las Vegas-based copyright trolling firm Righthaven worsened Saturday when one of the defendants it unsuccessfully sued for infringement asked a judge to allow seizure of the firm's assets — with the help of the U.S. Marshals, if necessary. The legal filing dropped moments after the Friday deadline expired for the litigation factory to pay defendant Wayne Hoehn $34,000 in legal fees.
Creditor Moves to Dismantle Copyright Troll Righthaven | Threat Level
News developers worried about new cost to use Google Maps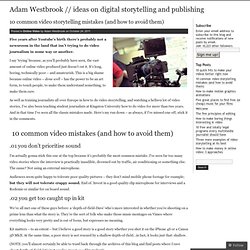 Five years after Youtube's birth there's probably not a newsroom in the land that isn't trying to do video journalism in some way or another. I say 'trying' because, as you'll probably have seen, the vast amount of online video produced just doesn't cut it. It's long, boring, technically poor – and amateurish.
10 common video storytelling mistakes (and how to avoid them)
Limited use of sharing buttons shows people's desire to share links privately
Despite the social sharing buttons ubiquitous on news stories and other Web pages, the dominant method of sharing is still the old-fashioned copy-and-paste of a page URL. AddThis, which provides sharing tools embedded on 10 million websites, says between 70 and 95 percent of all link-sharing occurs by copying and pasting a URL, not by clicking a button on the page. In some cases this has the same effect, if someone copies and pastes a URL into Twitter instead of clicking the embedded tweet button.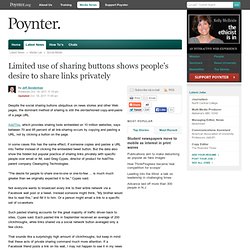 This Sunday: Tweeting the Issue
There was a great story in The Onion a few weeks back, right after Steve Jobs announced that he was stepping down as CEO of Apple. The headline read, "New Apple CEO Tim Cook: 'I'm thinking printers'" Not that there's anything wrong with printers, mind you.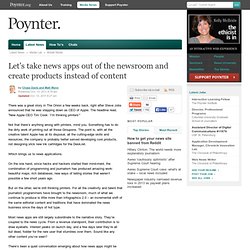 Let's take news apps out of the newsroom and create products instead of content
Meet the journalist behind Tumblr's rise
By Alex Kantrowitz, contributor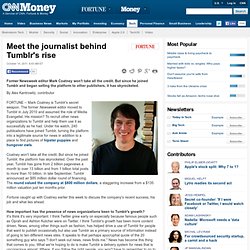 Tablet owners tend to consume a greater variety and volume of news on their devices, and tablets' visual, interactive features encourage in-depth exploration, according to a joint study from Starcom MediaVest and the online division of the BBC.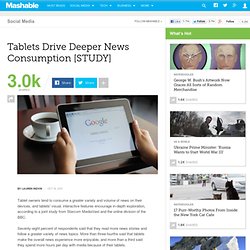 Tablets Drive Deeper News Consumption [STUDY]
Night owls read news on tablets, as mobile overtakes computer for at-home browsing
comScore A new report from comScore shows nearly three out of five tablet owners (58 percent) consume news on their tablets at least occasionally.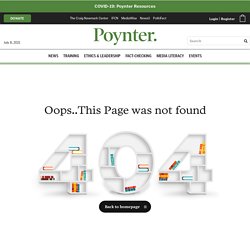 iPad's dominance of tablet usage, even 1.5 years later, is astounding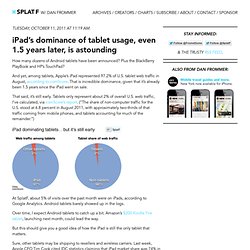 How many dozens of Android tablets have been announced?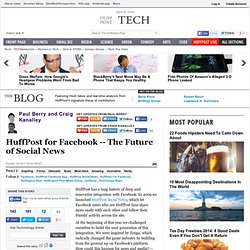 Paul Berry: HuffPost for Facebook -- The Future of Social News
HuffPost has a long history of deep and innovative integration with Facebook. In 2009 we launched HuffPost Social News, which let Facebook users who are HuffPost fans share more easily with each other and follow their friends' activity across the site. At the beginning of this year we challenged ourselves to build the next generation of this integration.
Twitter has finally laid its hands on trademark rights to the word "tweet," but the case provides yet another lesson in why companies have to nail down intellectual property rights early on. A Wall Street Journal (NSDQ: NWS) report says the micro-blogging service has finally come to an agreement with an advertising minnow, Twittad, that will clear the way for it to obtain "tweet."
Twitter Avoids 'Tweet' Defeat, Gets Trademark
The five "breakpoint" widths adopted by the Boston Globe responsive web design. #sndstl
When Tim Berners-Lee arrived at CERN, Geneva's celebrated European Particle Physics Laboratory in 1980, the enterprise had hired him to upgrade the control systems for several of the lab's particle accelerators.
Before Netscape: the forgotten Web browsers of the early 1990s