National Security Letter
For six years, Nicholas Merrill has lived in a surreal world of half-truths, where he could not tell even his fiancee, his closest friends or his mother that he is "John Doe" -- the man who filed the first-ever court challenge to the FBI's ability to obtain personal data on Americans without judicial approval. Friends would mention the case when it was in the news and the normally outspoken Merrill would change the subject.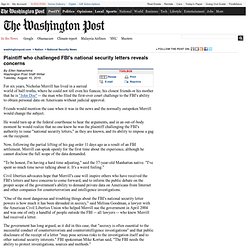 Plaintiff who challenged FBI's national security letters reveals concerns
A decade later, much of the government's surveillance policy remains shrouded in secrecy, making it impossible for the American public to engage in a meaningful debate on the effectiveness or wisdom of various practices. The government has used NSLs to collect private information on hundreds of thousands of people.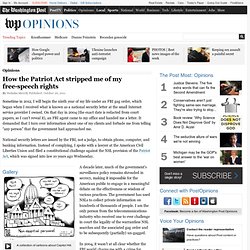 How the Patriot Act stripped me of my free-speech rights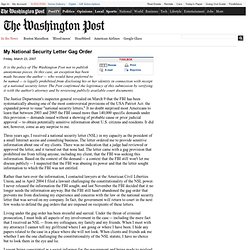 It is the policy of The Washington Post not to publish anonymous pieces. In this case, an exception has been made because the author -- who would have preferred to be named -- is legally prohibited from disclosing his or her identity in connection with receipt of a national security letter. The Post confirmed the legitimacy of this submission by verifying it with the author's attorney and by reviewing publicly available court documents. The Justice Department's inspector general revealed on March 9 that the FBI has been systematically abusing one of the most controversial provisions of the USA Patriot Act: the expanded power to issue "national security letters." It no doubt surprised most Americans to learn that between 2003 and 2005 the FBI issued more than 140,000 specific demands under this provision -- demands issued without a showing of probable cause or prior judicial approval -- to obtain potentially sensitive information about U.S. citizens and residents.
My National Security Letter Gag Order