Jewlery/Accessories
Chaîne de BeautySplurge
Back to School Accessory: How to Make a Bib Necklace
Everyone needs a go-to fringe scarf in their fashion repertoire. Here's an easy way to make your own. What You Will Need: -Old T-Shirt -Good Scissors Step 1: Go through your old T-shirts and find a daring print or color combo. For a cleaner look, choose a solid.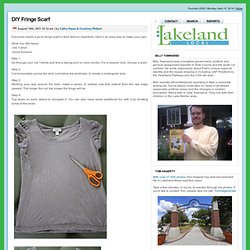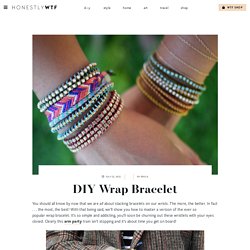 You should all know by now that we are all about stacking bracelets on our wrists. The more, the better. In fact . . . the most, the best! With that being said, we'll show you how to master a version of the ever so popular wrap bracelet.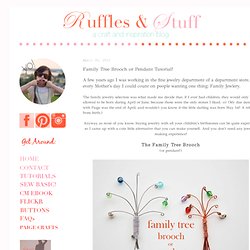 A few years ago I was working in the fine jewelry department of a department store, and every Mother's day I could count on people wanting one thing: Family Jewlery. The family jewelry selection was what made me decide that, if I ever had children, they would only be allowed to be born during April or June, because those were the only stones I liked. :o) (My due date with Paige was the end of April, and wouldn't you know it-the little darling was born May 1st! A rebel from birth.) Anyway, as most of you know, buying jewelry with all your children's birthstones can be quite expensive; so I came up with a cute little alternative that you can make yourself. And you don't need any jewelry-making experience!
Family Tree Brooch or Pendant Tutorial!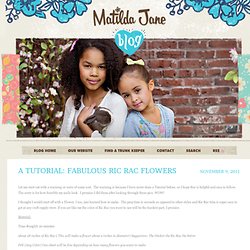 Let me start out with a warning or sorry of some sort. The warning is because I have never done a Tutorial before, so I hope this is helpful and easy to follow. The sorry is for how horrible my nails look. I promise I did them after looking through these pics. WOW!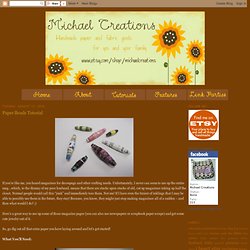 If you're like me, you hoard magazines for decoupage and other crafting needs. Unfortunately, I never can seem to use up the entire mag…which, to the dismay of my poor husband, means that there are stacks upon stacks of old, cut up magazines taking up half the closet. Normal people would call this "junk" and immediately toss them.
Paper Beads Tutorial
For those who follow my blog, you know that I have a slight obsession with creating flowers. I purchase books, surf the web and have ruined many a good piece of fabric/supply trying out new ideas. In my pursuit of "new" flower ideas I have found some "old" flower ideas in the form of ribbon flowers. Ribbon work has been around since the 17th century. Once only affordable for the high society, ribbon work became popular in the early 1900's due to articles in ladies magazines which featured ribbon flowers as hair ornaments, on belts and bags, lingerie items, and on decorative pillows for the home
Pretty Pansy Pin Tutorial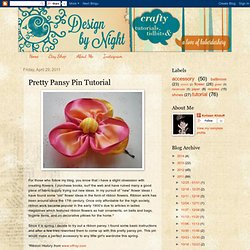 Sometimes you want to travel light – with just the essentials at hand. For this, you need: . A tiny, tidy tote that hangs from your wrist.
For day six of our 18 Day Series , lovely jewelry designer Rebekah put together this great tutorial showing us how to make these fabulous ruffled necklaces. Make one for yourself and/or as gifts for your girlfriends. Perfect! Here's more from Rebekah: These fun ruffle necklaces are a super great way to use up any vintage or extra fabric you have on hand as well as any old jewelry or buttons from your stash. I used chain on this particular necklace but feel free to experiment with ribbon instead, these pieces are all one of a kind and make such a fun statement especially for the holiday season! *For personal use only, please do not reproduce this project for profit..you're the best.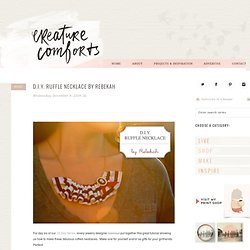 D.I.Y. Ruffle Necklace by Rebekah
Cherry Blossom Headband Tutorial
I think this is the perfect spring headband for a little lady. It would also work on an older head, say, yours. I bought the black elastic headband from the Etsy shop Threddies . This inexpensive and versatile headband fits both toddler and adults!