Clothing
Watermark Tee by Sweet Verbana. Hello U-Create readers!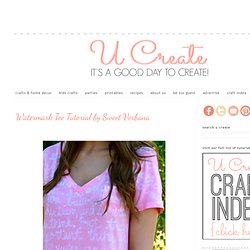 I am so excited to be guest posting here today. It just so happens to be my first guest post and I'm still a little shocked that it's here at Ucreate, one of my favorite blogs! A little bit about me.. Over 100 Free Clothing Sewing Patterns at AllCrafts.net - Free Crafts Network. The best FREE patterns so WONDERFUL people like YOU can create and SHARE!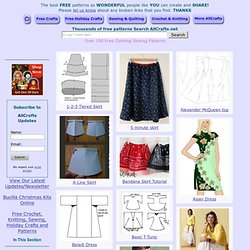 Please let us know about any broken links that you find. THANKS Thousands of free patterns Search AllCrafts.net. Spring Sewing ~ Spring Ruffle Top Tutorial. From Rae: This spring top is perfect for layering under cardigans in cool spring weather and can be worn right into summer!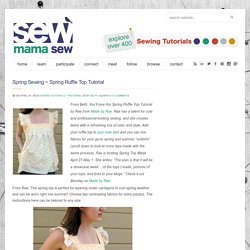 Choose two contrasting fabrics for extra pizzazz. The instructions here can be tailored to any size. Side view with pockets. Step 1: Take your chest and hip measurements. Altered Flip Flops Tutorial. While I live in Southern California, I am not much of a stereotypical "California girl"- I have short black hair, fair skin, I can't get tan (unless my millions of freckles blend together one day) and I don't run around in a bikini and short shorts.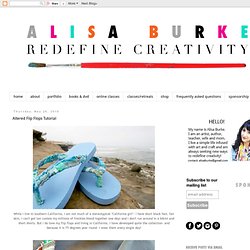 But I do love my flip flops and living in California, I have developed quite the collection- and because it is 75 degrees year round- I wear them every single day! These are my favorite pair. My husband got them for me when he spied them in a local surf shop and thought they looked like something I would make (messy and colorful). They are Sanuks and while they were not cheap (yes $32 is a lot for flip flops in my world!) Vintage flair: make a (faux) fur collar. Be sure to scroll to the very end of this post for a giveaway!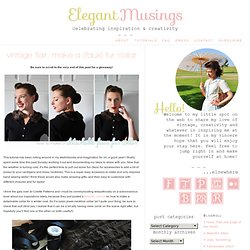 This tutorial has been rolling around in my sketchbooks and imagination for oh, a good year! I finally spent some time this past Sunday working it out and documenting my steps to share with you. Now that the weather is turning cold, it's the perfect time to pull out some fun (faux) fur accessories to add a bit of pizazz to your cardigans and dress necklines. Mustache Applique Tutorial. Here it is friends...my first ever tutorial!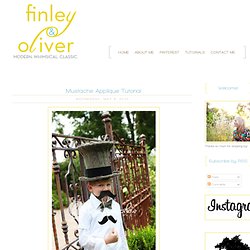 I've been dying to make a mustache t-shirt for my guys so I thought I'd document the process as I go along. If you've never appliqued before, you have to try it. Trust me, you'll be hooked. You can add so much character to a basic little shirt or hoodie and appliqueing is perfect for covering a stained but otherwise great t-shirt.
Pencil skirt w/ tutorial. I had pretty much never drafted an actual pattern before and it turned out to be halfway decent.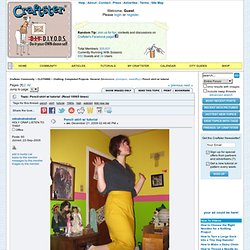 Start by taking these measurements: waist, hip (this includes your butt), waist to hip and hip to wherever you want your skirt to fall. Also, maybe measure from hip to hip in the front and back separately. Now take a piece of paper and draw 2 rectangles. One is for the front of the skirt; the other is for the back. Not too Tutu tutorial. Do you remember this tutu?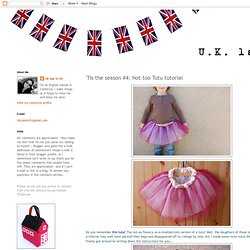 The not-so-flouncy-as-a-knotted-tutu version of a tutu? Well, the daughters of those lasses that asked for a tutorial may well have packed their bags and disappeared off to college by now, but I made some more tutus this week, so I have finally got around to writing down the instructions for you... For approx. a 2 - 6 year old child: here goes... You will need:
---