Audio
Banque de sons. [Tuto video complet]: Réaliser et publier un diaporama sonore avec SOUNDSLIDES. 30+ Free Online Multimedia (Photo, Audio, Video) Editors. We tend to rely heavily on our favorite desktop applications like Photoshop, GIMP, Audacity, Adobe Premier and so on when it comes to dealing with multimedia files.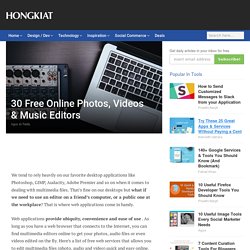 What if we are on a public machine that doesn't have the software we need, or worst, what if these public machines prevent users from installing applications? That is where web applications come in handy. Web applications have gained much attention and popularity over the pass few years. The reasons are simple – ubiquity, convenience and light. As long as you have a web browser that connects to the Internet, you can get your photo, audio or even video edited on the fly. Tutoriel Audacity.
Le relief sonore à la radio, vidéo Le relief sonore à la radio, vidéo Médias Radio - Archives vidéos Médias Radio. Documentaire-sonore « Déborah Gros. Atelier de Création Sonore Radiophonique.
Banques de sons. Cris d'animaux - Chants d'oiseaux - Banque de sons - Bruitages - Sonothèque de bruitages et musique d'illustration | Sound-Fishin.
---