Co-working
Skoll World Forum. Laurent Marbacher | Learn & create. Résultats Google Recherche d'images correspondant à. 4 Principles For Creating Change, And 4 Barriers That Make It Harder. Many people now are struggling to make change; to drive social or environmental impact whether they are social entrepreneurs or people working from within organizations to make a difference.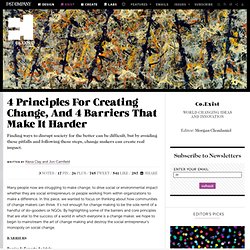 In this piece, we wanted to focus on thinking about how communities of change makers can thrive. It's not enough for change making to be the sole remit of a handful of do-gooders or NGOs. By highlighting some of the barriers and core principles that are vital to the success of a world in which everyone is a change maker, we hope to begin to mainstream the art of change making and destroy the social entrepreneur's monopoly on social change.
Barrier 1: Experts As Idols Too often change making is outsourced to experts or social entrepreneurs rather than community members. Meet The Unreasonables. Every year, the Unreasonable Institute gathers 25 social entrepreneurs from around the world into a house in Boulder, Colorado.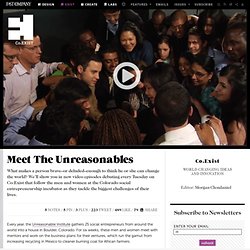 For six weeks, these men and women meet with mentors and work on the business plans for their ventures, which run the gamut from increasing recycling in Mexico to cleaner burning coal for African farmers. During the last session, the participants were followed around by a camera crew, and we'll be airing that footage here on Co.Exist. Their stories are inspiring in and of themselves, and perhaps in hearing about their struggles and successes, everyone working on a world-changing project (or thinking about starting one) can find a few lessons. Mutinerie : introduction. "5 lessons corporate should learn from coworking" Coworking paris. If You Want It Done Right, Don't Do It Yourself.
Time is our most limited resource, and knowing how to maximize it is imperative.
Successful people across the globe have clearly figured this out, deliberately deciding to concentrate on tasks where they are most productive, while outsourcing the tasks where they are less so. This results in higher productivity (and well-being) for everyone involved. To achieve the highest productivity and well-being for society as a whole, we must focus on honing our strongest skills instead of spreading ourselves thin by trying to do everything. Consider this little parable: Two men are alone on a deserted island. Building Businesses That Stand For Something. Last year, Patagonia launched a "Don't Buy This Jacket" campaign, encouraging people to buy their products used instead of new.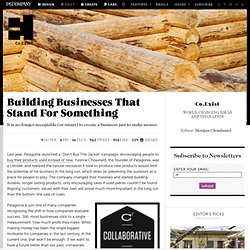 Yvonne Choiunard, the founder of Patagonia, was a climber, and realized the natural resources it took to produce new products would limit the potential of his business in the long run, which relies on preserving the outdoors as a place for people to play. The company changed their materials and started building durable, longer lasting products, only encouraging sales if used pieces couldn't be found.
Aligning customers' values with their own will prove much more important in the long run than the bottom-line sale of coats. Building Better Businesses By Closing The Happiness Gap. If two magnets are separated by too much distance, they won't have any impact on each other.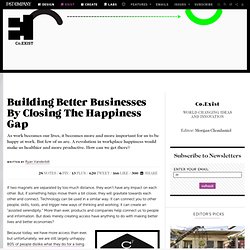 But, if something helps move them a bit closer, they will gravitate towards each other and connect. Technology can be used in a similar way. It can connect you to other people, skills, tools, and trigger new ways of thinking and working; it can create an "assisted serendipity. " More than ever, products and companies help connect us to people and information. But does merely creating access have anything to do with making better lives and better economies? CoworkingParis. Une page pour relier les différents espaces de CoWorking à Paris afin de faciliter le mouvement des CoWorkers et les interactions.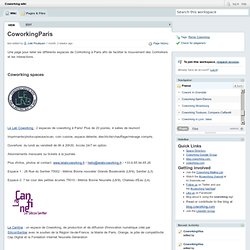 Coworking spaces Le Lab Coworking : 2 espaces de coworking à Paris! Plus de 20 postes, 4 salles de reunion! Le 12 mars, Mutinerie Ouvre ses Portes ! Mutins, Mutines, Mutinets et Mutinettes; C'est officiel, nous sommes en mesure d'annoncer la date de l'ouverture de Mutinerie en « version beta » aux coworkers, il s'agira du 12 mars 2012, c'est à dire, lundi prochain !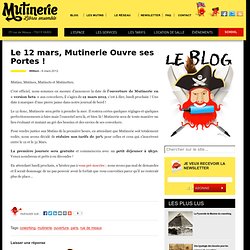 Une date à marquer d'une pierre jaune dans notre journal de bord ! Le 12 donc, Mutinerie sera prête à prendre la mer. 1320 coworking spaces worldwide. The number of coworking spaces worldwide reached 1320 at the beginning of February 2012, 88% more than a year ago.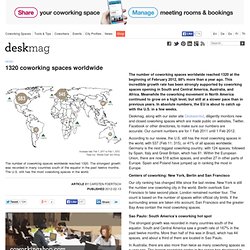 This incredible growth rate has been strongly supported by coworking spaces opening in South and Central America, Australia, and Africa. Meanwhile the coworking movement in North America continued to grow on a high level, but still at a slower pace than in previous years. In absolute numbers, the EU is about to catch up with the U.S. in a few weeks. Deskmag, along with our sister site Deskwanted, diligently monitors new and closed coworking spaces which are made public on websites, Twitter, Facebook or other directories, to make sure our numbers are accurate. Our current numbers are for 1 Feb 2011 until 1 Feb 2012. Plaquettecantine.pdf (Objet application/pdf) Deskmag - The Coworking Magazine. The development of coworking spaces. The coworking movement is growing, not just on a worldwide level, but also within each city.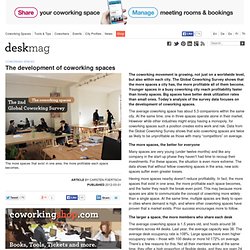 The Global Coworking Survey shows that the more spaces a city has, the more profitable all of them become. Younger spaces in a busy coworking city reach profitability faster than lonely spaces. Big spaces have better desk utilization rates than small ones. Today's analysis of the survey data focuses on the development of coworking spaces.
The average coworking space has about 5.3 companions within the same city. Plug: Like Jelly, with a twist. The collective knowledge and skills of coworkers remains the most under-utilized resource of the coworking movement.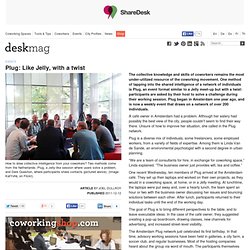 One method of tapping into the shared intelligence of a network of individuals is Plug, an event format similar to a Jelly meet-up but with a twist: participants are asked by their host to solve a challenge during their working session. Plug began in Amsterdam one year ago, and is now a weekly event that draws on a network of over 200 individuals. A café owner in Amsterdam had a problem.
Coworking in Big Cities vs. Small Towns. In the global coworking survey we asked coworkers where they work – in big or small cities. We found many differences when we compared the two types. Coworkers in smaller towns are older, earn more money and prefer smaller coworking spaces. They are also more interested in interaction and privacy than city dwellers.
The rural way of coworking. Coworking in small towns can be a very different experience to that in larger, more anonymous cities. Following last week's story, we spoke with four operators of coworking spaces in smaller towns: Small cities often already have close-knit social networks, yet coworking spaces offer a way to create tighter and larger professional connections. Coworking spaces in these cities have a more varied age structure, allowing their members good opportunities to pass knowledge between generations. We put our questions to the following four space operators: Freiraum87, Frederik Littschwager, Kempten (GER) Veel Hoeden, Joel Bennett, Pella (Iowa, USA) Wexelwirken Härten, Christopher Schmidhofer, Kusterdingen (GER) Unternehmerwerk, Ralf Jacubowsky v.
---