FASHION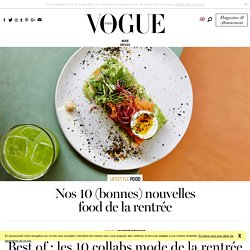 Le 12 janvier dernier se tenait à Los Angeles la 71ème édition des Golden Globes Awards, l'une des cérémonies américaines les plus importantes avec les Oscars. La grande gagnante de la soirée est Cate Blanchett, qui a remporté le prix de la meilleure actrice pour son rôle dans "Blue Jasmine", tandis que Jennifer Lawrence a été récompensée du prix du meilleur second rôle pour "American Bluff". Leonardo DiCaprio remporte quant à lui le Golden Globe du meilleur acteur dans une comédie pour "Le Loup de Wall Street" alors que Matthew McConaughey a été récompensé du prix du meilleur acteur pour "Dallas Buyers Club". Enfin, le très attendu "12 years a slave" s'est vu sacré du Golden Globe du meilleur film dramatique. Côté mode, le glamour hollywoodien était une fois de plus à l'honneur sur le tapis rouge des Golden Globes.
Men's fashion trends for spring / summer 2011: Shorts / Bermuda - New Trend Fashion on Fashion United
It is not the first time he speaks, as are the masters now for several seasons. I am of course talking about the shorts / shorts with a relaxed pace that complacency on all the catwalks of the world. From Milan to Paris and from Paris to New York, the fashion capitals of each year must come to terms with these absolute must-have invariably returning for the spring-summer 2011. Comfortable, lightweight and in many different tissues (including jeans) i bermuda hour match with everything and with great ease, from the traditional t-shirts to jackets and more structured.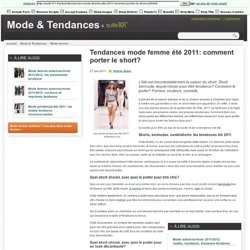 Tendances mode femme été 2011: comment porter le short? | Suite101.fr
Les shorts tendances été 2011 - aufeminin.com L'été est incontestablement la saison du short. Short, bermuda: lequel choisir pour être tendance? Comment le porter?
Le bermuda : une tendance qui se confirme
Le bermuda - Tendances de Mode
Dans la lignée des kitten heels, le bermuda - pièce plus pragmatique que trendy - soulève actuellement moult interrogations. Sous prétexte d'offrir une alternative au port du micro short et de la jupe droite, celui-ci tente en effet de réintégrer le dressing des modeuses... Conséquence des lois locales des Bermudes interdisant aux femmes de dévoiler leurs jambes, le bermuda ne peut pas se targuer de posséder un background particulièrement excitant (le fait qu'il fit rapidement partie intégrante de l'uniforme du parfait petit écolier n'arrangea guère les choses). Aujourd'hui, le bermuda rime ainsi bien plus avec virée chez les scouts qu'avec must have incontournable...