Wordpress
EasyWP WordPress Installer – Cause There Ain't No Such Thing As "Too Easy" | Smackdown! Posted on June 18th, 2008 at 8:30 am by Michael VanDeMar under blogthropology, coding, how-to, nerdiness, Social Media Me?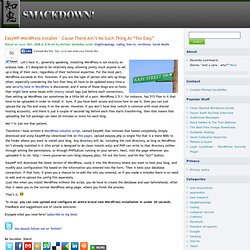 I'm just not that patient. Therefore I have written a WordPress Installer script, named EasyWP, that removes that hassle completely. How To Completely Clean Your Hacked WordPress Installation | Smackdown! Posted on June 24th, 2008 at 10:11 am by Michael VanDeMar under blogthropology, coding, how-to, On The Ball-ness, SEO, web design Getting hacked sucks, plain and simple.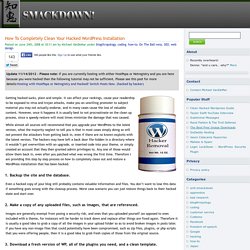 It can affect your rankings, cause your readership to be exposed to virus and trojan attacks, make you an unwilling promoter to subject material you may not actually endorse, and in many cases cause the loss of valuable content. However, once it happens it is usually best to not procrastinate on the clean up process, since a speedy restore will most times minimize the damage that was caused. While almost all sources will recommend that you upgrade your WordPress to the latest version, what the majority neglect to tell you is that in most cases simply doing so will not prevent the attackers from getting back in, even if there are no known exploits with the latest version. WARES | DOWNLOADS | WP-SNAP! WordPress Plugin. Note: This WordPress plugin is no longer being maintained.
I originally wrote this plugin in 2006 in order to teach myself php. It was a great exercise and I'm very glad to know that my work has been appreciated and put to good use. Unfortunately, I do not have the time to continue its development. 6 Ways to Customize WordPress Post Order. Recently, reader Luke Knowles asked how to customize the sort order of his posts in WordPress.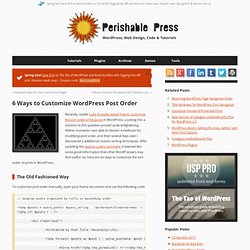 Looking into a solution to this question proved quite enlightening. Within moments I was able to discern 4 methods for modifying post order, and then several days later I discovered 2 additional custom sorting techniques.
---