Food
Affogato Mocha Recipe at Epicurious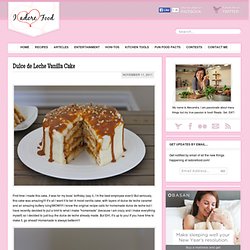 Dulce de Leche Vanilla Cake
First time I made this cake, it was for my boss' birthday (say it, i'm the best employee ever!)! But seriously, this cake was amazing!!!! It's all I want it to be! A moist vanilla cake, with layers of dulce de leche caramel and an amazing buttery icing!
10 Tasty Mug Cakes That You Can Make in Just Minutes
By bellalimento | I'm sure you've heard of cakes that you make in a microwave in MINUTES. I have to admit the first time I saw a recipe for one I was skeptical. I mean how can you make a cake in just a few minutes in the microwave?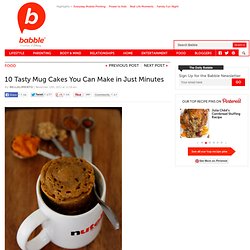 I have been experimenting with different mug cakes every since I heard about them about a year ago. None of them have been winners. They were either too chewy, too dry, or not sweet enough.
Nutella Mug Cake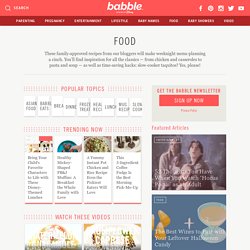 Food Pyramid Submissions
TasteSpotting | a community driven visual potluck
Ok fine. I'm officially ready to make the transition to fall. And I thought, what better way to do it than with my all time favorite Parmesan Roasted Potatoes! These are like candy. 100% addictive.
Parmesan Roasted Potatoes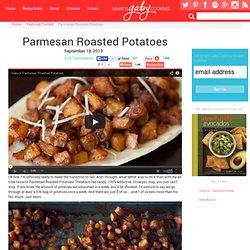 610K+Add bacon to anything and it will fly off the table. That's what a caterer once told me and I believe it. Certainly applies here. Whether you're planning a cookout this weekend or cooking indoors (rain predicted here in Texas), grill up a few of these sizzling treats for a quick appetizer or serve as an entree. I can't think of a better way to celebrate the Fourth of July than with a big plate of these spicy and cheesy, smoky and crispy chicken nuggets.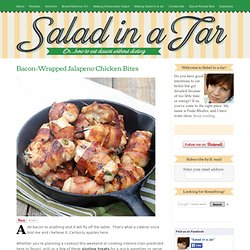 Bacon-wrapped Jalapeno Chicken Bites
Have I mentioned how addicted I am to Pinterest? Feel free to leave your Pinterest link in a comment so I can follow you-I'm twoofakind on there. Its opened my eyes to many new recipes including my family's new favorite side - Garlic Cheese Mini Puffs. In the post she gives the Red Lobster version and then the recipe for mini biscuits. I'm personally a fan of miniature versions, so I went with that. Ingredients: 1 cup all-purpose flour 1 tablespoon sugar 2 teaspoons baking powder 1/4 teaspoon salt (*see recipe tips) 1/2 tablespoon garlic salt (*see recipe tips) 1/4 cup cold butter, cubed 1 cup grated cheddar cheese 1/2 cup milkDirections: Preheat oven to 400 degrees.
Garlic Cheese Mini Biscuits - Red Lobster Knock-off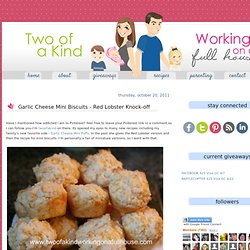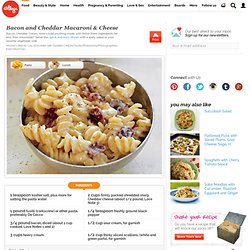 1 Bring a medium (6- to 8-quart) pot of water to a boil. Salt it generously (it should taste like the sea). Stir in the pasta and cook according to the package directions.
Bacon and Cheddar Macaroni & Cheese
recipe: buffalo chicken ring | jayesel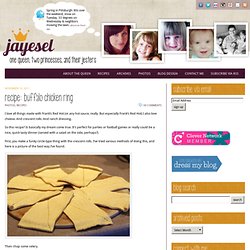 I love all things made with Frank's Red Hot (or any hot sauce, really. But especially Frank's Red Hot) I also love cheese. And crescent rolls. And ranch dressing. So this recipe? Is basically my dream come true.
SLIDESHOW: Ramen Hacks: 30+ Easy Ways to Upgrade Your Instant Noodles [Photographs: J. Kenji Lopez-Alt] Ramen in the U.S. has come a long way.
Ramen Hacks: 30+ Easy Ways to Upgrade Your Instant Noodles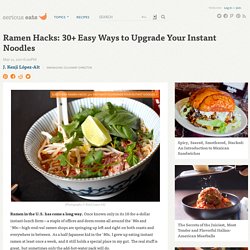 most favorited all-time
Romancing the Stove
Passover is one of Adam and my favorite Jewish holidays. It is a happy holiday with a lot of celebrating, eating, and drinking wine. Any holiday that invites eating and merriment, is a holiday for me! Over the years, Adam and I have enjoyed sharing in each other's family's traditions and holidays. The look on Adam's face, our first Christmas morning, was priceless! He couldn't believe the abundance of gifts.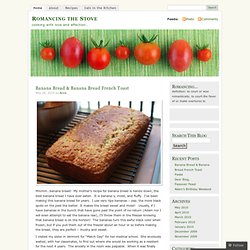 Skittles Vodka Tutorial
How to Pair Mixers with Alcohol : Recipes and Cooking
Watermelonade Recipe at Epicurious
photo by Roland Bello yield Makes 1 gallon (serves 16) active time 30 min total time 30 min You would be hard-pressed to find something more refreshing than watermelon.
The average person gains up to 10 lb. between Halloween and New Years. Who can pass up desserts all season long? Here's a guilt-free recipe for apple pie–in an apple!
Recipe: Guilt-Free Apple Pie in an Apple! | Lucille Roberts Blog
Last night, I decided to make one of my favorite cookies. These little pastry swirls are so delish! I usually use my favorite pie crust recipe, which I have previously posted, but I decided to try a pastry recipe by the Barefoot Contessa.
GET OFF YOUR BUTT AND BAKE!: PASTRY
The Infamous Jacques Torres Chocolate Chip Cookies
Now, I have a chocolate chip cookie recipe that I swear by. I love it, I think it is incredible, and I haven't changed my mind about that. However, as much as it pains me to say it, these chocolate chip cookies by Jacques Torres are absolutely, without a doubt, the best chocolate chip cookies that I have ever made or tasted in my entire life. I guess that's why they call him Mr.
Chocolate Chip Cookie Dough Dip
How To Make Perfect Brownies
Graham Cracker S'mores Cookies
Oreo Chocolate Chip Cookie Caramel Brownies | The Angieriver Show
Oreo and Peanut Butter Brownie Cakes
Crazy Domestic: Melted Snowman Cookies
The-Bananarama.jpg
Chocolate Cupcakes with Flaming Strawberries
Cheesecake Stuffed Strawberries
Chocolate Chip Cookie Dough Truffles | annie's cooking lab
Chocolate Chip Cookie Dough Cheesecake
Pumpkin Cinnamon Rolls Recipe
Cinnamon Sugar Pull-Apart Bread
mingmakescupcakes.yolasite
No-Bake Chewy Cookies and Cream Bars
Make Your Own Ice Cream in Five Minutes