Food
Affogato Mocha Recipe at Epicurious. Dulce de Leche Vanilla Cake. First time I made this cake, it was for my boss' birthday (say it, i'm the best employee ever!)!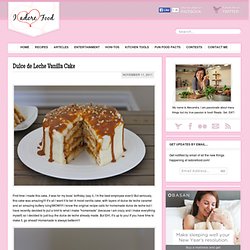 But seriously, this cake was amazing!!!! It's all I want it to be! A moist vanilla cake, with layers of dulce de leche caramel and an amazing buttery icing! 10 Tasty Mug Cakes That You Can Make in Just Minutes. By bellalimento | I'm sure you've heard of cakes that you make in a microwave in MINUTES.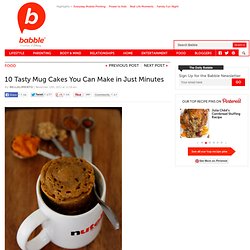 I have to admit the first time I saw a recipe for one I was skeptical. I mean how can you make a cake in just a few minutes in the microwave? Nutella Mug Cake. I have been experimenting with different mug cakes every since I heard about them about a year ago.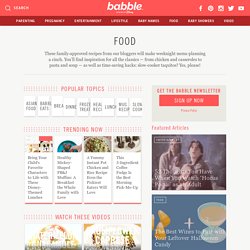 None of them have been winners. They were either too chewy, too dry, or not sweet enough. Food Pyramid Submissions. TasteSpotting | a community driven visual potluck. Parmesan Roasted Potatoes. Ok fine.
I'm officially ready to make the transition to fall. And I thought, what better way to do it than with my all time favorite Parmesan Roasted Potatoes! These are like candy. 100% addictive. Once you stop, you just can't stop. If you knew the amount of potatoes we consumed in a week, you'd be shocked. Bacon-wrapped Jalapeno Chicken Bites. 610K+Add bacon to anything and it will fly off the table.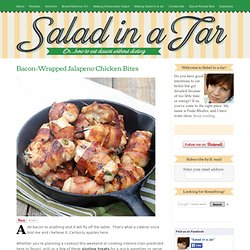 That's what a caterer once told me and I believe it. Certainly applies here. Whether you're planning a cookout this weekend or cooking indoors (rain predicted here in Texas), grill up a few of these sizzling treats for a quick appetizer or serve as an entree. I can't think of a better way to celebrate the Fourth of July than with a big plate of these spicy and cheesy, smoky and crispy chicken nuggets.
Garlic Cheese Mini Biscuits - Red Lobster Knock-off. Have I mentioned how addicted I am to Pinterest?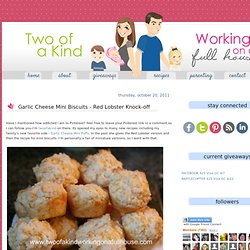 Feel free to leave your Pinterest link in a comment so I can follow you-I'm twoofakind on there. Its opened my eyes to many new recipes including my family's new favorite side - Garlic Cheese Mini Puffs. In the post she gives the Red Lobster version and then the recipe for mini biscuits. I'm personally a fan of miniature versions, so I went with that. Ingredients: 1 cup all-purpose flour 1 tablespoon sugar 2 teaspoons baking powder 1/4 teaspoon salt (*see recipe tips) 1/2 tablespoon garlic salt (*see recipe tips) 1/4 cup cold butter, cubed 1 cup grated cheddar cheese 1/2 cup milkDirections: Preheat oven to 400 degrees. Bacon and Cheddar Macaroni & Cheese. 1 Bring a medium (6- to 8-quart) pot of water to a boil.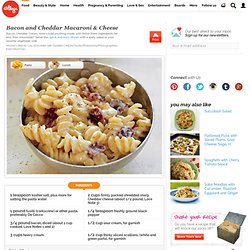 Salt it generously (it should taste like the sea). Stir in the pasta and cook according to the package directions. Recipe: buffalo chicken ring. I love all things made with Frank's Red Hot (or any hot sauce, really.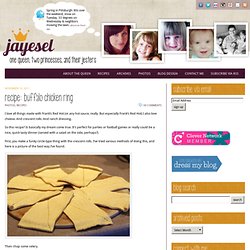 But especially Frank's Red Hot) I also love cheese. And crescent rolls. And ranch dressing. So this recipe? Is basically my dream come true. Ramen Hacks: 30+ Easy Ways to Upgrade Your Instant Noodles. SLIDESHOW: Ramen Hacks: 30+ Easy Ways to Upgrade Your Instant Noodles [Photographs: J.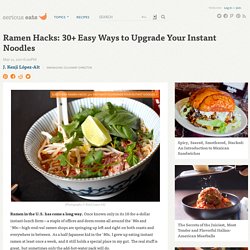 Kenji Lopez-Alt] Ramen in the U.S. has come a long way. Most favorited all-time. Romancing the Stove. Skittles Vodka Tutorial. How to Pair Mixers with Alcohol : Recipes and Cooking. Watermelonade Recipe at Epicurious. Photo by Roland Bello yield Makes 1 gallon (serves 16) active time 30 min total time 30 min You would be hard-pressed to find something more refreshing than watermelon.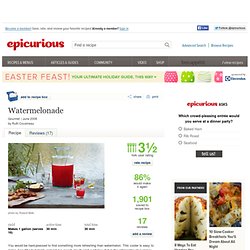 Recipe: Guilt-Free Apple Pie in an Apple! | Lucille Roberts Blog. The average person gains up to 10 lb. between Halloween and New Years. Who can pass up desserts all season long? Here's a guilt-free recipe for apple pie–in an apple! GET OFF YOUR BUTT AND BAKE!: PASTRY. Last night, I decided to make one of my favorite cookies. These little pastry swirls are so delish! I usually use my favorite pie crust recipe, which I have previously posted, but I decided to try a pastry recipe by the Barefoot Contessa. The Infamous Jacques Torres Chocolate Chip Cookies. Now, I have a chocolate chip cookie recipe that I swear by.
I love it, I think it is incredible, and I haven't changed my mind about that. However, as much as it pains me to say it, these chocolate chip cookies by Jacques Torres are absolutely, without a doubt, the best chocolate chip cookies that I have ever made or tasted in my entire life. I guess that's why they call him Mr. Chocolate Chip Cookie Dough Dip. Chocolate Chip Cookie Dough Dip It's time for a little confession. I realize this may get me shunned (especially in my hometown of Pittsburgh!) How To Make Perfect Brownies. Graham Cracker S'mores Cookies. Oreo Chocolate Chip Cookie Caramel Brownies | The Angieriver Show. Oreo and Peanut Butter Brownie Cakes. Crazy Domestic: Melted Snowman Cookies. The-Bananarama.jpg. Chocolate Cupcakes with Flaming Strawberries.
Cheesecake Stuffed Strawberries. Chocolate Chip Cookie Dough Truffles | annie's cooking lab. Chocolate Chip Cookie Dough Cheesecake. Pumpkin Cinnamon Rolls Recipe. Cinnamon Sugar Pull-Apart Bread. Mingmakescupcakes.yolasite. No-Bake Chewy Cookies and Cream Bars. Make Your Own Ice Cream in Five Minutes.
---