Scuba
GUEST ARTICLE: Palau or 'Belau' according to the Palauans is an island nation located in the Pacific about 500 miles east of the Philippines. It consists of some pretty unique sights like the Rock Islands that are made up of limestone and resemble large mushrooms. Palau is famous for its deliciously warm clear blue waters with its incredible marine life and colorful reefs. It was mid March when we flew to Palau from Hong Kong.
Palau – Jelly Fish Lake Worlds Best Snorkeling Experience — Road Less Travelled Blog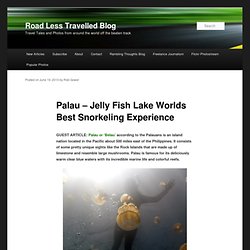 Oceans teem with microscopic organisms that are constantly drifting down towards the sea bed, attaching to and colonising on the way any hard secure surface, such as rock outcrops, and thereby creating the basis of a natural reef. Coral reefs attract an array of marine life (such as colourful fish, turtles, sea urchins, sponges, and sharks) and also provide enclosed spaces for sea creatures to breed or take refuge. Only about 10 – 15% of the sea bed has a solid enough substratum to allow reefs to form naturally. In order to increase the number of reefs in these areas artificial reefs have recently been created from materials that are durable, secure and environmentally sensitive.
Underwater Sculpture artificial reefs
Underwater Photography, Scuba Diving, Shark Cage Diving, Stock Images, Screensavers, Screen Savers, Eco-Photo Explorers, EcoPhoto, Eco Photo
Scuba Diving Holidays | Scuba Travel
Vivian Diving Centre Home
East Lancs Divers - Dive Shop About Us