Recipes
Rosemary Breakfast Potatoes
Buddha's Delight - Recipe
The strong smell of tomatoes mixed with aubergines, basil & ricotta was wafting throughout the house. "The house smells incredibly good," my husband greeted me as he entered the house. I knew he would say that because the combination of ingredients of the aubergine rolls is his favorite. This was his dinner, while the kids and I would be having fish with aubergine salad. Like me, both kids have a particular liking of aged cheese. Fresh cheese never attracted me but I am giving myself a chance to try out this dish.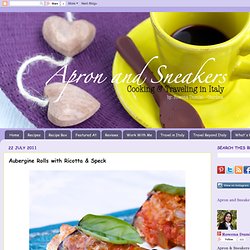 Apron and Sneakers - Cooking & Traveling in Italy: Aubergine Rolls with Ricotta & Speck
Carnal Dish My name is Resha and I love to cook! I have many recipes in the pipeline, so sit tight ;) Food you crave, food you lust....food that'll get you laid ;)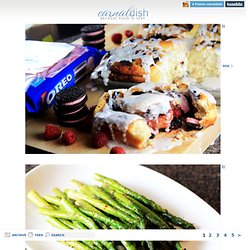 Carnal Dish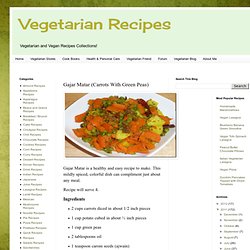 Gajar Matar (Carrots With Green Peas) ~ The Vegetarian Recipes
Gajar Matar is a healthy and easy recipe to make. This mildly spiced, colorful dish can compliment just about any meal. Recipe will serve 4.
Butternut, Roasted red pepper and Halloumi Salad | Food and the Fabulous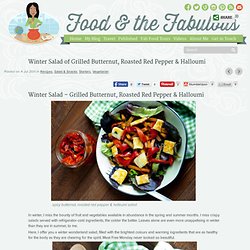 Winter Salad – Grilled Butternut, Roasted Red Pepper & Halloumi spicy butternut, roasted red pepper & halloumi salad In winter, I miss the bounty of fruit and vegetables available in abundance in the spring and summer months. I miss crispy salads served with refrigerator-cold ingredients, the colder the better.
You don't have to be fearful of vegan cooking
April 07, 2014 Police investigating two shooting incidents by Jim Redden
Jamie's 30-Minute Meals recipes - Channel4 - 4Food
The Fare Necessities: Roasted Red Pepper Sauce with Pasta
Creative name, huh? Look, while everyone else is starting to cook lighter meals because of the nicer weather, I'm thinking of how crappy my week was. Nothing particularly went wrong, it's just that, I'm tired.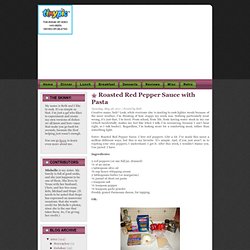 The Delicious Life
Maple ♥ Spice
These came about quite accidentally. The other day while my husband was working in the garden he handed me a small bucket full of blackberries that just happen to grow wild in the bushes on our property. I had been massively craving a good old-fashioned berry pie for days so I very happily whipped up a blackberry pie (which was so pretty, really wish I took a picture!) Anyway, I had some pastry leftover sitting in the fridge and thought I would make some tarts. The pastry is my standard pastry recipe with a little added sugar.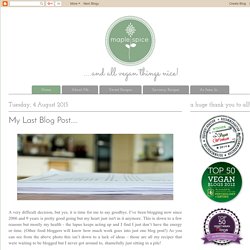 Summer is finally here! It's time for BBQ's and outdoor dinner parties with friends and family. We want to make it easy for you to make healthy dishes for your family, but still enjoy the cooking activities that define summer. We collected a list of 100 healthy recipes for you to enjoy all summer long!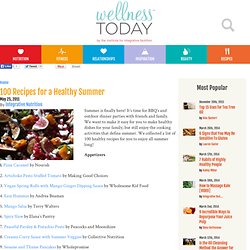 100 Recipes for a Healthy Summer