Internship
Multi file upload with Uploadify and Carrierwave on Rails 3. I have been using Paperclip to upload images in Rails apps for about 2-3 years now.
Recently after watching CarrierWave File Uploads screencast by Ryan Bates, I got interested to try it out. However, I wished to extend it a bit more and add support for multi-file uploads with Uploadify . Luckily, I had an old application based on Rails 2, Paperclip, and old version of Uploadify. Although, I got it working with the new components, I do not have this application published anywhere. AJAX file uploads in Rails using attachment_fu and responds_to_parent - Khamsouk Souvanlasy. Step 1.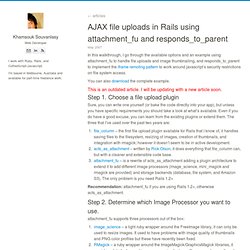 Choose a file upload plugin Sure, you can write one yourself (or bake the code directly into your app), but unless you have specific requirements you should take a look at what's available. Cucumber - Making BDD fun. Akdemia. Integration Test. Following UnitTest of a subsystem, IntegrationTest evaluates that subsystem as integrated within a larger subsystem or within the complete system, testing interdependencies with other subsystems, including other project and third party libraries, tools, etc.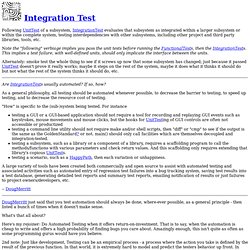 Note the "following" verbiage implies you pass the unit tests before running the FunctionalTests, then the IntegrationTests. This implies a test failure, with well-defined units, should only implicate the interface between the units.
---