Cloud computing
Catalog Hero | Online DVD Catalog - Catalog Hero is a free online solution for storing your DVD database online.
Guerrilla Mail - Disposable Temporary E-Mail Address Don't want to give them your real email? Use a temporary email. No registration, lasts 60 mins.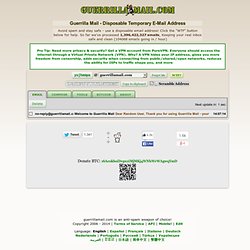 ✉ GuerrillaMail.com
Bribespot – Mozilla Firefox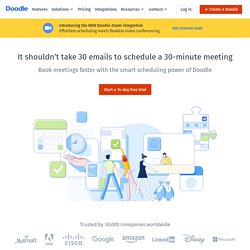 Find a date for a meeting 2x faster Doodle cooperates with your calendar No switching between your calendar and Doodle Avoid conflicting bookings
Dropbox naudojimas su .torrent failais at Gru – Mozilla Firefox
Gegužė 12th, 2011 by Kęstas Kaip ir daugelis, naudoju Dropbox dokumentų sinchronizavimui tarp savo įrenginių. Kartais susiduriame su tokia problema, kad naršant telefonu ar būnant darbe, universitete ar mokykloje ir pamačius ką nors naudingo, neturime kaip namie veikiančiam utorrent klientui nurodyti, kad paimtų mūsų mėgiamą failą. Taigi šiame trumpame "HOWTO" aprašysiu, kaip iš bet kurios vietos įkelti .torrent failą į veikiantį klientą nuotolinėje vietoje. Jeigu neturite Dropbox kliento, jį galite parsisiųsti per mano referalą.