Recipes & Cooking
Featured Articles on Cooks.com Saving Money in the Kitchen –– You've heard, over the past years, of "30 Minute Meals" (or less), home cooking with nearly-home made style prepackaged and pre-processed foods ... Casserole Soup Mix –– Use this BPA free, lower sodium and budget friendly recipe to make your favorite casserole healthier and more economical. How to Make an Italian Easter Pie –– This recipe for Pizzagaina has been a treasured favorite in our family for many generations. Tsoureki - Greek Easter Bread –– Tsoureki is a traditional Greek Bread served at the Easter meal flavored with overtones of orange and anise. It's shaped into a twisted wreath or a braid and has red colored hard boiled eggs tucked into pockets formed between the twists.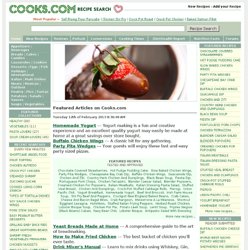 Food.com: The most complete collection of free recipes on the Internet, trusted by home chefs throughout the world. Sign In Register Recipe Sifter Start Here Course Main Ingredient Cuisine Preparation Occasion Diet Filter by Ingredient Nutrition Select () or exclude () categories to narrow your recipe search.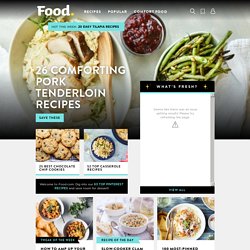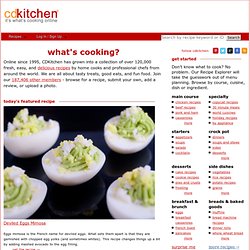 Online since 1995, CDKitchen has grown into a collection of over 120,000 fresh, easy, and delicious recipes by home cooks and professional chefs from around the world. We are all about tasty treats, good eats, and fun food. Join our 186,473 other members - browse for a recipe, submit your own, add a review, or upload a photo. today's featured recipe Get the daily featured recipe via email by signing up for our newsletter
Artisan Bread Baking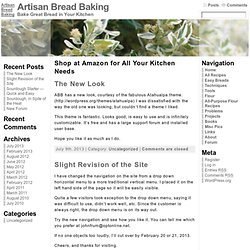 A poster on a discussion board I frequent posted a note about a loaf that looked fine until it started to bake, then sagged in the middle of the loaf during baking. The poster was using a bread machine that would bake 2, 2.5 or 3 pound loaves and the effort under discussion was a 3-pound loaf. The question was not only what happened but if it might be related to the size of the loaf — was a 3 pound loaf actually too big for the machine. I'm not an expert on bread machine baking, so I am operating at a disadvantage here. Other responses were to cut the yeast, cut the water, etc. All over the lot; not surprising, since this seemed like such a strange problem.