Volunteering
The Natural-Resource Curse Strikes Again by Andres Velasco. Exit from comment view mode.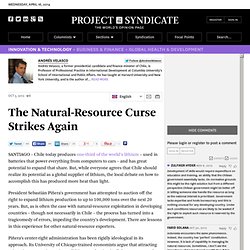 Click to hide this space SANTIAGO – Chile today produces one-third of the world's lithium – used in batteries that power everything from computers to cars – and has great potential to expand that share. The Bill. Change.org - Start, Join, and Win Campaigns for Change. Top employers get more from staff by giving back. Six years ago, Shibani Ahuja didn't know the difference between a floor joist and a truss.
That all changed when she started working for Manulife Financial Corporation. Don't worry – the financial-services company hasn't branched out into the construction industry. Aurea Foundation - Toronto, Ontario, Canada.
Endeavour Volunteer Consulting for Non-Profits. Imagine Canada. Nonprofit Risk Management Center. CRA - Charities Listings. The Canada Revenue Agency (CRA) maintains a searchable list of Canadian charities called the Charities Listings, which can be used to: confirm whether a charity is registered under the Income Tax Act and is therefore eligible to issue official donation receipts; andview a charity's contact information and Registered Charity Information Return, which includes financial information and activities.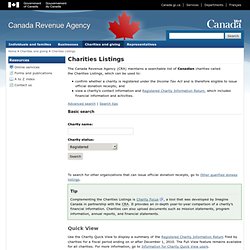 Advanced search | Search tips To search for other organizations that can issue official donation receipts, go to Other qualified donees listings. Champions of Change.
---